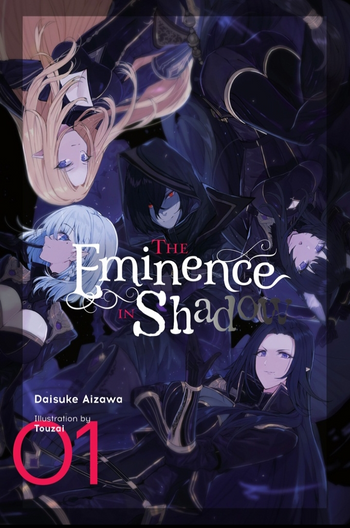 The Eminence in Shadow
(Japanese 陰の実力者になりたくて! / "I Wanna be the Power in the Shadows!") is a 2018 Japanese
Web Serial Novel
by Aizawa Daisuke.
Just like how everyone adored heroes in their childhood, a certain young man adored those powers hidden in shadows. After hiding his strength and living the mediocre life of a mob character by day while undergoing frenzied training by night, he finally reincarnates into a different world and gains ultimate power. The young man who is only playing at being a power in the shadows, his misunderstanding subordinates, and a giant organization in the shadows that gets trampled… This is the story of a young boy who had adored powers in shadows possibly eventually reigning over the world of shadows in another world.
The series has a manga adaptation, a light novel adaptation published by Kadokawa, and English translation of the light novel by Yen Press. A spin-off manga, "Eminence in Shadow - Shadow Side Story" has been announced. It has been confirmed that an anime adaptation is in the works.
---
Provides examples of:
---