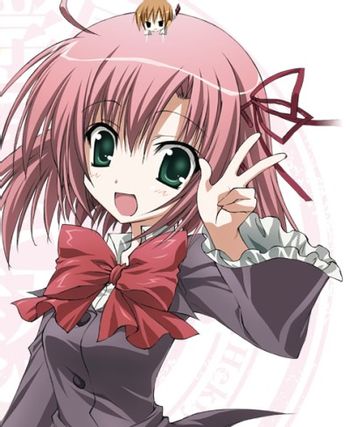 "I am well aware that this Student Council is my harem."
— Ken Sugisaki
At Hekiyou Academy, the Student Council is selected by what amounts to a popularity contest. As such, the Council mostly consists of attractive girls, though there is one man among them - Ken Sugisaki. His lofty, crazy and yet somehow attainable goal? To turn the four girls of the Student Council into his harem.
So begins Student Council's Discretion (Seitokai no Ichizon), a series of Light Novels written by Aoi Sekina and illustrated by Kira Inugami which was published from 2008 to 2012 for 10 volumes. It received an anime adaptation in the fall of 2009 by Studio DEEN. A second season was announced in March of 2011 and confirmed for the fall 2012 season, animated by AIC.
The light novels also have a manga adaptation illustrated by 10mo that ran in Monthly Dragon Age from 2008 to 2013, and a DS game
where the player can get a chance to make the harem for Ken themselves.
Crunchyroll is streaming the second season, which can be viewed here
for people living in the following areas: North America, Ireland, Finland, Denmark, Norway, Sweden, Iceland, and the Netherlands under the name Student Council's Discretion. The first season was originally available, but was later unfortunately pulled due to licensing issues.
For another anime with many similarities, compare and contrast Seitokai Yakuindomo, where the gender roles are reversed, with the girls being the perverted ones, and the guy being the Straight Man.
---
This light novel provides examples of:
---