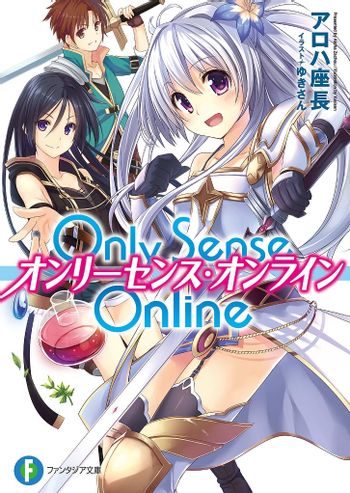 Only Sense Online, also known as OSO, is an ambitious Virtual Reality MMORPG that offers players a high level of customization via its "Sense" system. Each player gets to choose from a vast list of talents known as Senses and they are encouraged to create their own Sense build for an "only one play style".
During the official launch of Only Sense Online, Shun, an Ordinary High-School Student, is compelled by his best friend Takumi and younger sister Miu, both hardcore gamers and beta testers of OSO, to join them in the game. Hilarity Ensues, when the game system mistakes his sex and generates a female avatar for him, which he further complicates by accidentally giving himself a feminine-sounding handle "Yun". As a complete novice player, Yun picks up a set of unpopular Senses which his much more experienced companions label as trash. Undeterred by their harsh words, Yun decides to keep his Senses and experiment with them, embarking him on a journey where he would explore the richly-designed game world, meet new friends, face challenges and actually thrives in-game… all alongside with him constantly trying (and failing) to convince other players that he is not a girl!
Only Sense Online is an ongoing Light Novel series written by Aloha Zachou, and is published by Fujimi Shobo. Its Slice of Life approach to the VRMMORPG concept makes it Lighter and Softer compared to other works of its genre, such as .hack//SIGN and Sword Art Online, although it is still exciting in its own right. Only Sense Online has a manga adaptation, which is also published by Fujimi Shobo.
---
This series provides examples of:
---