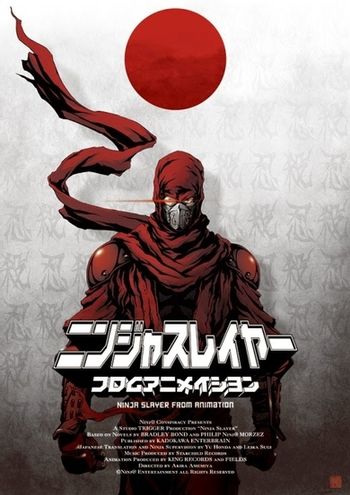 Ninja Slayer is a series of novels created by American writers Bradley Bond and Philip "Ninj@" Morzez, who in turn gave Enterbrain permission to translate it in Japanese. The Japanese translation was posted on Twitter piece by piece on by the Japanese "Translators" Honda Yu and Sugi Leika. After the story got popular, it was published in novel form in 2012.
It tells the story of Kenji Fujikido, a normal salaryman who had recently moved his family into the cyberpunk city Neo-Saitama to start his new job, unaware of its sinister background. They soon find themselves caught in the city's never-ending Ninja Mob War, and the wife and child are killed in the ensuing chaos. Kenji, himself left mortally wounded, ends up being possessed by a vengeful soul called Naraku Ninja, who wants to destroy all ninja, particularly those responsible for all the madness and corruption around their world. Overlapping with Kenji's own desire for revenge, together they become the superhuman Anti-Hero Ninja Slayer, grim reaper of evil ninjas everywhere.
The novels have been adapted into a manga called Ninja Slayer: Machine of Vengeance in 2013 in Comp-ACE, as well as a Shojo Manga called Ninja Slayer: Glamorous Killers.
Studio TRIGGER (Kill la Kill, Little Witch Academia) made an ONA series based on the Novels in Spring 2015... with a mixture of Limited Animation ranging from "Okay" to "Slightly improved Inferno Cop." The series was later broadcasted on Japanese television starting on April 2, 2016.
---
DOMO, NINJA SLAYER-san. My name is TROPER. Ninja Slayer Provides Examples of:
---
SAYONARA
*Explodes*