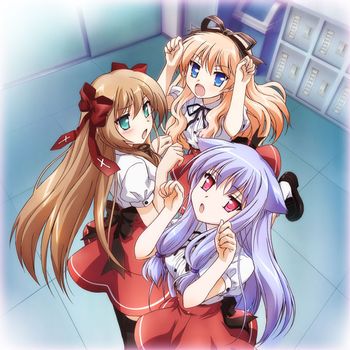 Tsuzuki Takumi is an Ordinary High-School Student who lives with his older sister Otome. He along with his childhood friend Serizawa Fumino run a patisserie called "Stray Cats". The name is apt as his sister often brings back stray cats. The story begins when one day, instead of a cat, something unexpected is brought home!
Mayoi Neko Overrun! is a Light Novel series authored by Matsu Tomohiro, with illustrations done by Peko. For its manga adaptation, Kentaro Yabuki (Black Cat, To Love Ru) does the art.
An anime adaptation aired in the spring of 2010. Due to either experimentation or problems behind the scenes, the anime is unique. Every episode is directed by a new director.
---
This series provides examples of:
---