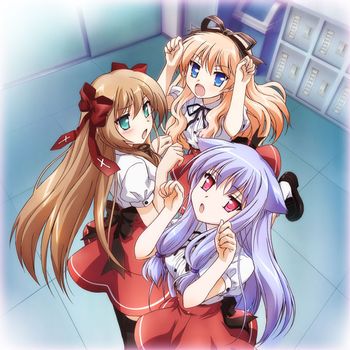 Tsuzuki Takumi is an Ordinary High-School Student who lives with his older sister Otome. He along with his childhood friend Serizawa Fumino run a patisserie called "Stray Cats". The name is apt as his sister often brings back stray cats. The story begins when one day, instead of a cat, something unexpected is brought home!
Mayoi Neko Overrun! is a Light Novel series authored by Matsu Tomohiro, with illustrations done by Peko. For its manga adaptation, Kentaro Yabuki (Black Cat, To Love Ru) does the art.
An anime adaptation aired in the spring of 2010. Due to either experimentation or problems behind the scenes, the anime is unique. Every episode is directed by a new director.
---
This series provides examples of:
Adaptation Distillation: Predictably, both the anime and manga cut out a lot of idle conversation and less important events, leaving only major plot points.
Adaptation Explanation Extrication: A reverse form takes place between the manga and light novels; Mikan claims the Stray Cats Patisserie makes good cakes, while in the light novel Takumi states that Otome only makes whatever heavy cakes won't spoil in a week before she goes crusading off again.
Animation Bump: A surprising variant, found in the next episode previews.
Ass Kicking Pose: Played for Laughs. Otome taught Nozomi how to do the Crane Stance to use when introducing herself (complete with a "MEOW!" in the end).
Balanced Harem: In the anime at least, none of the girls have a significant lead over the others with Takumi.
Genre Savvy: When seeing Takumi comes in with a badly bruised face, Ieyasu correctly concludes that Takumi got beat up for falling into someone's boobs, though he doesn't really believe it.
Instant Expert: Nozomi is able to make a strawberry shortcake perfectly the first time, despite watching Otome's horrible attempt at it at first in episode 2.
Keigo: Kaho always speaks this way.
Kung-Shui: being Played for Laughs, Fumino and Chise punch Ieyasu through a window when the Stray Cats commercial he was shooting was focusing on ... certain areas of the girls rather than the scenery they took the trouble to create for it.
Verbal Tic: Nozomi frequently uses "Nya" in her speech, which usually is translated as "Meow".
Yamato Nadeshiko: Kaho looks and seems the part and has a manipulative side to her.
---