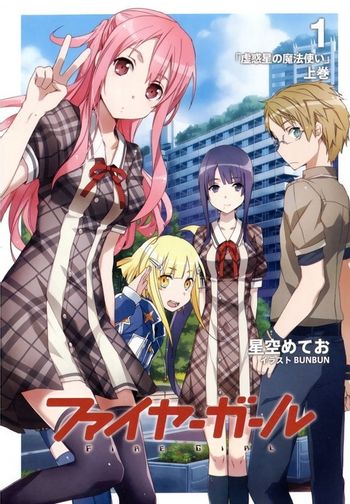 Touya: It's because you're a magician, isn't that obvious?
Homura: Say that one more time.
Touya: We want a magician in our Exploration Club.
Homura: You're talking about some game, right?
Touya: That's what you'd normally think. But this isn't about a game. It's real.
Homura: You're aware that you're saying something strange, right?
Touya: Yeah.
[Beat]
Touya: [Laughs] But, you know, the Exploration Club is fun! I think you'll like it too, Hinooka.
Fire Girl is a Japanese Light Novel series published under the famous Visual Novel company Type-Moon, written by Meteor Hoshizora of World Conquest Zvezda Plot and Girls' Work fame, and featuring art and character designs by BUNBUN of Yuki Yuna is a Hero and A Brave Heart of Red Rose fame.
Homura Hinooka is just your average girl in school: she's cute, friendly, sociable, and highly popular with the boys. But at heart, she's the type of person who finds things like thinking deeply - a skill that she's weak at - really bothersome, is a bit of a goofball to boot, and is someone you just couldn't bother giving schoolwork to since she'll just sleep it off. Even club activities are something she finds troublesome. After all, why would you participate in something that would just tire you out anyway when you already have your hands full with the snoozefest known as school? The idea of it all was so absurd to her that she puts it in herself not to join in any school clubs in her first year of high school in Seiran High, a famous university prep school widely known to have a high rate of participation in club activities. Homura's first year of high school life since then has been dull, boring, and uneventful.
One day, as she was walking home alone from school, a boy in her grade, Takumi Touya, suddenly stops to invite her to join UNPIEPnote United Nations' Pioneering Imaginary Earth Program, or their school's Exploration Club, a club dedicated to exploring the uncharted planet known as Imaginary Earth: Nutella, a world that's twice as large as Jupiter, urging her to be their club's resident magician. Homura reacts as well as you'd expect.
Initially wary of the invitation at first, Homura readily accepts and she finds herself thrust into a grand adventure of a lifetime. Along with Touya, the beautiful club president Mayo Misasagi, and the golem girl Ameno, Homura sets out with her newfound friends to investigate the uncharted planet. But, being an investigator for the club isn't an easy task. What dangers await her and her friends in the mysterious planet Nutella?
The first volume was released alongside Fate/Apocrypha during the Winter 2012 Comiket. The novels have three volumes with seven books (two per volume for the first two volumes and three books in the last one) and are released as separate parts, with Parts 1 following Homura and her friends' lives in school, and Parts 2 detailing her adventures as she explores Nutella.
An ongoing translation for volume one can be found here
.
---
Fire Girl contains the following tropes:
---