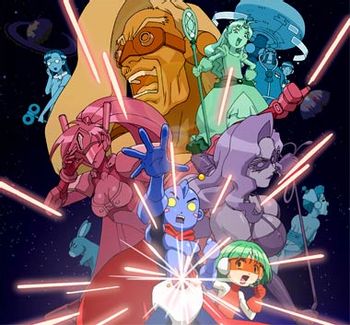 Dokkoida?! is a six-volume light novel series written by Taro Achi (with illustrations by Yu Yagami) which was published from 1999 to 2003 with six volumes. It has been adapted into a three-volume manga (written and drawn by the same pair, released in English by CMX) and a twelve-episode anime series (released in English by Geneon) that aired in 2003, following the antics of the residents of Cosmos House both on and off the job.
Suzuo Sakurazaki has just come to the big city for college, but he needs a job. When Tanpopo, a green-haired little girl representing a toy company, offers him a belt that will transform him into the superhero Dokkoida, Suzuo mistakes the whole thing as an advertising gimmick. He realizes too late that it's for real, and toy companies can make weapons, too.
Tanpopo's company and their rival are, in fact, competing to market their super suits to the galactic police. Whichever one is proven more effective will gain a contract for mass production. To test them, the police have unleashed three powerful supervillains and promised a full pardon to whichever of them can successfully unmask our heroes. Everyone is provided Secret Identities, which if found out would render the entire test null and void. Despite this, budget constraints force everyone to be placed in the same apartment building.
And so Suzuo and his "new" little sister "Kosuzu" come to live at the Cosmos House apartment, befriending their (strangely familiar) neighbors while fighting for truth, justice, and winning the contract.
---
Tropes:
---