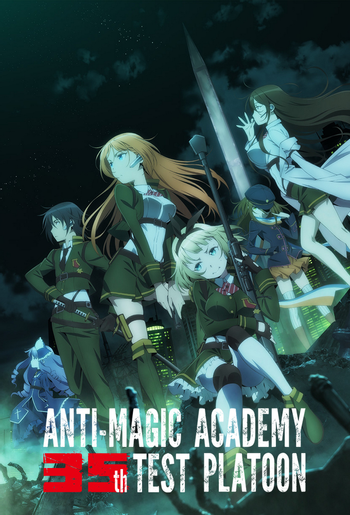 Anti Magic Academy "The 35th Test Platoon"
(
Taimadou Gakuen 35 Shiken Shoutai
) is a
Light Novel
series written by Tōki Yanagimi and illustrated by Kippu. The name is commonly abbreviated as Anti Magic Academy by fans, concluding with thirteen main volumes published, along with two short story volumes. An
Anime
adaptation was made and aired in the
fall of 2015
, animated by
SILVER LINK.
.
The story is set in an alternate world where society is stabilizing after a conflict called the "Witch Hunt War" almost wiped out humanity. An organization called the Inquisition was established in order to combat the remaining Witches and keep objects called Magical Inheritances from falling into the wrong hands. The protagonist, Takeru Kusanagi, is a student aspiring to be an inquisitor, purely for the monetary benefits of it. Hopeless in every area except swordsmanship, he acts as captain of the 35th Platoon, nicknamed the "Small Fry Platoon", which is full of odd people much like himself.
Due to the dysfunctional nature of the group, the platoon is in a hopeless position with zero points and on the verge of failing their year. However the status quo of the group changes when an ex-inquisitor named Ootori Ouka is forced to join their ranks. Thus, Takeru and the rest of the 35th platoon is thrust headfirst into the conflict between Witches and the Inquisition.
The anime is currently streaming on Crunchyroll
where it can be legally viewed. The novels have yet to see any form of official localization, but scanlations exist for all the currently released volumes (barring the two side volumes).
---
Anti Magic Academy provides examples of these tropes: