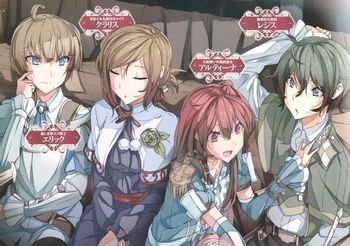 Here is a tale of war, love, and politics, woven by the bookworm and the sword princess.
—Blurb of the English translation
The rulers of the Belgarian Empire trace their lineage to L'Empereur Flamme, a warrior famed for both his tremendous strength and his fiery red hair. By the time of Emperor Liam XV, however, the bloodline has started to run thin. No redhead would be born into his family until the fourth child, the tomboyish Princess Marie Quatre Argentina de Belgaria... who by the age of 14 would run afoul of court politics and be "rewarded" with command of a dangerous border outpost.
Regis Aurick was an inept, timid soldier of common birth, who somehow managed to reach officer rank when a marquis took notice of his sharp mind. Unfortunately, when one of his superior officers got the marquis killed, he would become a scapegoat and be demoted to the front lines. This leads him to be scooped up by the notorious Princess Argentina herself, aka "Altina", as her personal tactician... and her first confidant in her plans to seize the throne herself.
Haken no Kouki Altina (覇剣の皇姫アルティーナ)Translation Roughly "Altina, Imperial Princess of the Ruler's Sword" is a Low Fantasy light novel written by Murasaki Yukiya, describing the struggles of Altina and Regis to bring an end to the pointless Forever War that the nation is constantly locked in with its neighbors. Launched in 2012, the series has 15 books as of September 2018 (1-14 and 7.5). A licensed translation under the title Altina the Sword Princess
is available from J-Novel.
A manga adaptation has been produced, running in Famitsu Comic Clear and compiled into four volumes.
Fans of Overlord will find a collaboration booklet between the two works.
---
This series provides examples of:
---