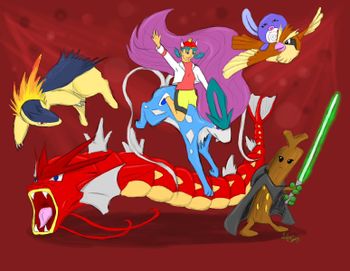 Twitch Plays Pokémon (TPP) is a social experiment in which commands representing buttons on a Nintendo handheld are entered into a chat on Twitch, and then translated into a game of Pokémon via an IRC bot. In short, hundreds of people are fighting over a controller. Throughout its life, Twitch Plays Pokémon has spawned hilarious characters, memorable moments, and even a few religions.
This particular run is actually an intermission of Pokémon Vietnamese Crystal, played between major runs starting after Twitch Plays Pokémon Red Anniversary, starring a girl named "BABA", after a Magikarp caught during said previous run. Like Twitch Plays Pokemon Conquest beforehand, it is played fully on Democracy Mode, although unlike Conquest it only registers one command at a time without stacking inputs note You can vote for "a" or "start" but not "a9" or "leftupa".
Twitch Plays Pokemon Vietnamese Crystal (also known as Elf's World by the chat and the TPP community) is played in alternating order with Twitch Plays Pokémon: Arena, an intermission of Pokemon Battle Revolution where players bet on either Red or Blue teams in Pokemon battles and control what the computer may choose for them. The way both games work is, after a battle has been concluded, people have 50 seconds to vote for a command where the one with the most votes gets that command inputted. Those who voted also have a chance to win tokens, in which they can either place them in a pool, use them to create custom matches or play custom music, or gamble them in a slot machine. Considering how long a battle takes to set up and finish before every voting session, it's best to say this run will take a while.
The run officially started on March 24, 2015, immediately after the completion of Red Anniversary, and persisted through the intervals after the following three runs. Baba became the Champion on September 9, 2015, before moving onto the Kanto region of the game and defeating Sorcerer Sho, Vietnamese Crystal's version of Red, on November 10th 2015. Vietnamese Crystal ultimately ended when Twitch Plays Pokémon XD began on December 12th, 2015; once XD run ended, Twitch Plays Pokémon Trading Card Game took VC's place as the intermission game.
See also here
for the archived status of the run, and here
for archived progress of the game in screenshot form.
Note: Only tropes unique to this particular run should be listed here. All tropes for the original bootleg can be found on its own page.
---
Twitch Plays Pokémon Vietnamese Crystal contains examples of:
---