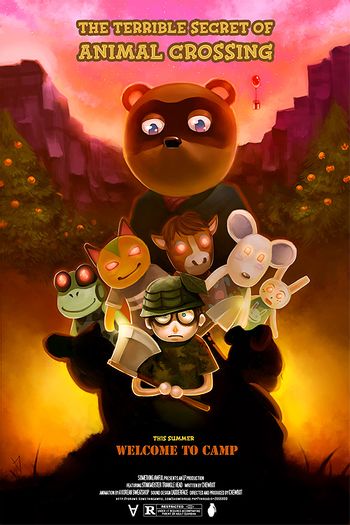 "I've never heard of this particular summer camp, but it was cheap and we were broke."
— Billy, The Terrible Secret of Animal Crossing
A Let's Play of Animal Crossing: Wild World by Chewbot, a Darker and Edgier version of the cute little game you know and love.
This is the story of eight-year-old Billy and his wondrous adventures at "Camp". Arriving at what seems to be an innocuous summer camp with nothing but the clothes on his back (the driver took off with his things in the trunk), Billy quickly finds himself in an empty house with a dead land line and no way of escape. He's quickly informed that he's in debt for a house he didn't buy and then swindled into working for Tom Nook, a Mafia-like raccoon he suddenly owes money to.
...But there's more. Something is off about the camp; there are no other kids around except him, and the only company he has are that of animated talking animals. Everyone in the camp seems to be in on some secret, and Billy can't trust any of them. Some of them even disappear suddenly during the night, leaving without a trace. With his world spiraling out of control, Billy takes matters into his own eight-year-old hands and attempts to find out what dark, dirty secret this cute little place is keeping...
And it all goes downhill from there.
Can be found here
. Happy reading and sweet dreams.
Other Let's Play style stories he's written include Plague and Treachery on the Oregon Trail, which is much Lighter and Softer than this story, for those who might have trouble sleeping tonight.
---
This provides examples of:
---