"Hello, everybody! My name is Markiplier."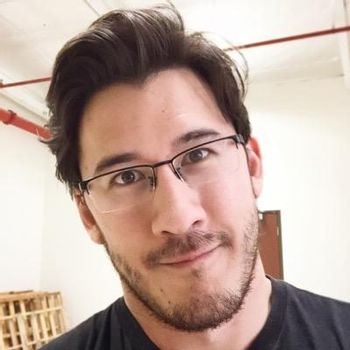 Mark Fischbach (born June 28, 1989), better known under his YouTube alias Markiplier, is a gamer from Cincinnati, Ohio who is currently based in Los Angeles. He broadcasts daily Let's Play videos on YouTube and occasionally streams on Twitch. His channel predominately features OTT reaction videos and playthroughs of Survival Horror games, as well as monthly charity livestreams.
For a sampling of his best material, horror games such as Amnesia, Ib, Mad Father, The Witch's House, OFF, SCP – Containment Breach and all six of the Five Nights at Freddy's titles are a good place to start. He also records ongoing LPs of non-horror titles, such as Happy Wheels and Dishonored. Another unusual aspect of the channel are user-submitted Mods, frequently those adapted from Amnesia and Half-Life (notable examples of the latter include Cry of Fear and Afraid of Monsters); Mark enjoys spreading the love to indie developers and plugs their submissions almost weekly. For a long time, he had also recorded a series of videos called Drunk Minecraft with his two friends, LordMinion777 (Wade) and Muyskerm (Bob), but it was discontinued after 69 episodes due to Mark's inability to process alcohol properly.
Markiplier reached 25 million subscribers, a number which continues to grow; as of this writing, he has over twelve billion views of his videos, which can be seen here.
He has also raised over 3 million dollars for charities. His brother, Tom, makes the webcomic Twokinds and has appeared in some of his videos.
Over the years, Mark has slowly been branching out from gaming into other areas such as acting and voice talent. While he affirms that he will never abandon let's plays, he frequently does multiple comedy skits and challenge videos on the channel. He has also portrayed several characters of his own, most notably the pink-moustached Wilford Warfstache and his own Evil Counterpart Darkiplier. He's additionally appeared in multiple music videos by Random Encounters, most notably the Five Nights at Freddy's songs. In 2017, he started the improv-based "You're Welcome" tour, which has visited the USA and Europe to date.
Additionally, Mark has created an four-part original video series (8, if you count the Jim segments) called Who Killed Markiplier? which ran from October 10, 2017 to October 13, 2017. In this series, the viewer is encouraged to play the part of the District Attorney and is privy to a murder mystery surrounding the death of the actor Markiplier. Later, in 2019, he and various other content creators worked together to make A Heist With Markiplier, in which the viewer plays the role of Markiplier's partner in crime in an interactive narrative with multiple branching paths.
Alongside Ethan Nestor (AKA CrankGamePlays
), Mark created the channel Unus Annus on November 15th, 2019, in which the two proceed to completely ignore any and all advertiser-friendly monetization guidelines to produce content that's utterly bizarre and frequently semi-NSFW, with the intent to delete the channel and all of its content precisely one year after its creation. Aside from that, it's rather difficult to describe what exactly Unus Annus is.
open/close all folders
Games Markiplier Has Played
1916 Der Unbekannte Krieg
Amnesia: The Dark Descent and Amnesia: A Machine for Pigs, including Justine's campaign and custom stories:

La Caza
Abduction
Followed by Death
The Machine
Lost the Lights
Tenebris Lake
Gary: Dark Secrets
Gary: Snowy Secrets
The Attic
Isle
Agony of Insanity
Oblivion: Drops of Wine
Kidnapped
Weird Dreams
Study of Insanity
The Dark Room
Poisonous
The Things in the Night
Disponentia
Black Forest Castle
The Cruel Ways of Dr Richard Jones
Through the Portal
Emma's Story
Digressiophobia
Killings in Altstadt
White Night
The Great Work
Rain
Obscurity
When Life No Longer Exists
The Grey Eagle
It's Hurting My Eyes
A Late Night Drink
Fear Amnesia note
Castle of Devastating Diseases
Fekete Keres
Gustav
Destiny Rebellion
A Coward's Debt

Ampu-Tea
The Binding of Isaac note
Bunny Man Lost Souls
Cannibal Café
Castle Crashers with Yamimash, CinnamonToastKen and MangaMinx
The Corridor
Cry of Fear and its various custom campaigns
Dark Ocean
Dark Cut
DERE.EXE and DERE EVIL.EXE
Fibrillation
He has played various fanmade clones of Five Nights at Freddy's:
Forest
Garry's Mod horror maps in collaboration with Yamimash
G-mod Murder with SeaNanners, Hutch, and AllShamNoWow in one instance, PewDiePie, Ohmwrecker, and Manga Minx in another, and more often with his own crew.
Grimind
Happy Wheels, of which he does Highlights rather than full-length episodes
Everything in the Henry Stickmin Series
Hide
The House 1 & 2
Hylophobia
Illusion
Illusion Ghost Killer
Inculcation
Labyrinth (the one involving "naked Slender Men")
Labyrinth (the one based on Greek Mythology)
Maze
Mental Hospital
One After Another
One Late Night
Orcs Must Die! 2 note
Penis Cloner
Penumbra: Overture

Penumbra: Black Plague
Penumbra: Requiem

Pesadelo
PokéSlender
Psycosis
The Rake Hostel
The Rake Return To The Asylum
Resolute Dark
SCP-087-B
Slender, including the Slenderman's Shadow maps and Slender: Haunt.
Stalked
Stonewick Manor
Spooky's Jump Scare Mansion (formally known as Spooky's House of Jumpscares)
Tanatophobia
Tea Party Simulator
The Terrible Old Man (Based On a H.P. Lovecraft Story)
The Theater
UnExit
Unfair Mario
The Visitor
Where Am I
---
Markiplier and his videos provide examples of:
open/close all folders
A-C
Arson, Murder, and Jaywalking: When he plays Whack the Cheater, Markiplier's complaints are that you shouldn't kill people, that you should direct your anger at the proper person if you're being cheated on, and that the game had no sound.
Atomic F-Bomb: Combined with Screams Like a Little Girl in the second video of his Monstrum LP, when he sees the second monster that he had not encountered during several prior playthrough attempts.

Markiplier: *in a super high voice* WHAT THE FUCK ARE YOU?!
Author Appeal: Russians, he loves Russians. He also loves dogs, as multiple vlogs and playthroughs will show you.
Badass Baritone: When not scared shitless, Mark has a pretty deep voice. This lends itself well not just to narration, but also to giving viewers and/or fellow players a nice scare. Hence he has lent his baritone announcer voice to other Youtube projects such as Chilling Tales For Dark Nights.
Badass Boast: Markiplier will make ridiculous boasts while playing horror games, usually to the effect of him being "too tough" or "so handsome" that the monsters are avoiding him, only to have one crash in and scare him into screaming bloody murder.

Mark declares that "I am the KING of Five Nights at Freddy's!" after beating said game on 4/20 mode, a custom game mode set to the highest difficulty level.
Badass Mustache: The signature of Mark's Alter-Ego Acting, Wilford Warfstache, is a giant pink mustache. It has now become something of an official Markiplier emblem. Sometimes he even wears it while recording!
Bad "Bad Acting": Mark's attempt at hiding his knowledge of the fact that "Error #53" is a horror game and not a cutesy adventure game is... unconvincing. Especially noticeable as unlike his other videos he doesn't react to the scares at all, and blames all the monsters and jumpscares on Techno Babble terms.
Bait-and-Switch: In his joke video about what he does while he's not making Let's Plays, he has "Steal other Youtubers' ideas" at Number 4. We then have a shot of him staring at PewDiePie videos... before he tells his digitally-voiced parrot Jacque to shut up about stealing them.
Bare Your Midriff: Ethan in the video "Markiplier Makes: TIE DYE (blindfolded)", in which he wears an outfit that exposes his stomach.
Berserk Button: Interrupting him mid intro isn't smart, as several Drunk Minecrafts will show you:

Markiplier:

Hello everybody, and welcome back to...

Bob:

Adjga...

Markiplier: SHUUUUUT UUUUUP!!!

Gameplay that involve Some Dexterity Required. Mark liked Octodad itself but was in a constant rage over its bad controls throughout his playthrough. Similarly, his first attempt at playing I Am Bread causes him to be so angry that he appears to be crying at one point.
He stated in Ragdoll Runners that he hates video games with bad controls.
Basically any intentionally frustrating videogames or Rage Games will set him off.
He simply can't stand Vanish due to victory being based on random chance rather than individual skill or ability. Even mentioning it will generally get Mark on the defensive, with him typically insisting that he beat it fair and square. This created an amusing scenario in which Vanish was mentioned in a fan-made game, setting in-game Mark off on a rant that supposedly lasted four hours and ended with "and people died", which inadvertently sets off the real Markiplier, who only realizes just in time that he too was about to start ranting about Vanish.

Actually, cheating, taking an easy way out, or relying on luck at all, even in real life - especially in real life - is a good way to set him off. Even suggesting that he take a shortcut (whether in playing Subnautica or signing calendars) can seriously upset him. In the game "You Left Me," he actually refused to see the final ending of the game, because it required him to - even in a hypothetical, fictional universe - select the option "Give Up."

Quicktime Events tend to annoy him, especially if they're overused (as was, in his view, the case with Man of Medan).
Big Damn Heroes: He uploaded a livestream video titled "I Literally Won't Shut Up Until You Subscribe To PewDiePie", where he desperately urged the viewers to subscribe to PewDiePie as fast as possible to not let T-Series become the most-subscribed channel on YouTube. For reference, at that point, PewDiePie had 60 thousand more subscribers than T-Series, but the latter gained them two-three times faster than the former. The result was PewDiePie gaining a million subscribers in just two days.
Big "NO!": Occurs when he accidentally knocks the heart that he needed to transplant out of the edge of the screen in Surgeon Simulator 2013. He also does this occasionally whenever he loses a patient, but he then cuts it off with an 'oh well', or 'next patient'.

Occurs again when Mark thinks he's finally completed Vanish, only to be killed while unlocking the gate.
Many, many, many examples in his playthrough of I Am Bread, for obvious reasons.
He lets out two Big No's when he finds out that

he's about to harvest the fur of his in-game cat for money

in Exoptable Money.
He does this in response to a particular comment telling him that he'll never be a Grump during a roast video.
In his playthrough of HuniePop upon receiving the Bestiality achievement.
He lets out a comical one during his 'Reading Your Comments' video in response to one of the questions asking for marriage.
He has a surprisingly large one during his first Until Dawn play-through when he accidentally lets

Ashley

die.
Bring My Brown Pants: After encountering (and being killed multiple times by) the blind and lobotomized patient in Neverending Nightmares and realizing that he has to rely on his senses to attack, Mark coolly tries to play off how frightened the patient made him.

Mark:"You didn't hear nothing. I ain't worried about nothing. You don't smell nothing. That's not poop in ''my'' pants. Who-who put all this poop in my pants?!"

This exchange during his playthrough of Five Nights at Freddy's 2:

Mark:"I can't let Chica in here. If I die by Chica, I'm gonna literally poop my pants!" (Five seconds later, he drops the camera, and Chica's there to kill him) "HIIII, CHICA!! What the hell?!"

Broken Record: He has released three videos ("rar", "BOOP SUPERJUICE", "RÖKNING FÖRBJUDEN") that consist of a single short loop repeated over and over for 10 minutes.
D-G
H-L
M-R
Conversing, or arguing with, his editor Lixian.
Pronouncing Genius as Junyus.
S-V
Smite Me, O Mighty Smiter!!: The Latin's Wrath episode of Drunk Minecraft. At one point Mark jumps on top of the house to taunt Latin (the moderator of the Minecraft server).
Sore Loser: He completely melts down after losing 4-1 to Wade in Mole Hammers.
Squee!: If you ever doubt that Mark is Adorkable, just look at his reaction to anything related to space. A good chunk of his Alien: Isolation playthrough was appreciating the scenery of space, and he takes his geeking out Up to Eleven when he plays Universe Sandbox.
Stalker with a Crush: He acts like this during his "Flappy Fedora" and "Yandere Simulator" playthroughs. This is Played for Laughs, of course, with the former being a parody of neckbeards and the latter being an exaggerated interpretation of the Yandere archetype.
Stunned Silence: This happens to him when he sees the Twist Ending in The Witch's House. He stays quiet for over a minute before he recovers.

He stays quiet and wide-eyed for several seconds during a scene in FranBow. He blinks himself into working again and continues on.
More so when he completes the game Reunion.

He finally reaches the boy he had been trying to find, to find out that the character he had been controlling was trying to kill the boy due to him suffering from schizophrenia. Mark is in complete shock from that point until the end of the video

.
More humorously, when he finds the "Dancing Room" easter egg in The Darkest Words all he can do is stare.
Happens several times when playing Monstrum. The first two times it happens when he hadn't realized there was a monster so close (or, in the second case, he hadn't realised there was a monster at all), but the third time it was the brutal manner of death that got him.
During his playthrough of the "Silent Hill: Alchemilla" demo, he stays silent for seven seconds after he realizes the last part of the demo has changed.
After witnessing

the Bite Incident

in Five Nights at Freddy's 4, Mark can do nothing but stare in open-mouthed horror for almost twenty seconds.
Mark and Tyler are both shocked when Flowey kills Asgore after they spare the latter. Tyler is the first to respond by saying that he hates

Flowey.

When he finally reaches the earliest memory of Johnny during his playthrough of To the Moon, he enters a quick one between a couple of wham lines when everything starts to click about what just happened.

Eve:

Didn't you see it in his room, Neil?

...Johnny slept on a bunk bed.

(Mark goes silent and gives the camera a look of

horror

)

(a new text bubble pops up at the bottom of the screen)

Mark:

(reading in a very quiet voice with the same expression)

Joey...
W-Z
---
"And as always, I will SEE YOU... in the next video.

BYE-BYE

!"
---