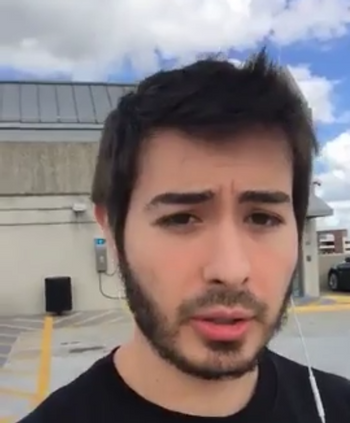 "What's up everybody, it's Critikal. I'm playing TV Tropes for the PC; let's do this shit."
Critikal (Usually stylized as Cr1TiKaL, YouTube name penguinz0
, real
name
Charles White), born on August 2, 1994, is a game commentator on YouTube. He usually reviews old and relatively obscure games for the PC and Sony PlayStation along with indie and mainstream games, and most of his commentaries only last for one video. He's known for his low-pitched and almost monotone voice and his dry... err... moist humor. His commentary consists of sarcastic deadpan observations interspersed with crude humor. Aside from game commentaries, he occasionally makes humorous dubs over infomercials using his own voice and making fake movie trailers from monologues and footage of games he has played.
He has obtained YouTube partnership. However, he makes these videos simply because he enjoys making them and any money he makes is donated to various charities.
After seeking employment as a voice actor, he has managed to find roles as a tourist in Tropico 5, Job Gilman in Lucius 2, the computer in VoidExpanse, and Zero Mask in ANIMA: Gate of Memories. He also opened a Patreon
, after much deliberation, mostly due to hardship in finding quality work, and in how his YouTube partnerships were not paying him. Currently, it has been repurposed to support The Official Podcast, a podcast run by him and three of his friends.
Critikal's videos include (but are not limited to) the following games:
98 Koshien
Amnesia: The Dark Descent (demo version)
Barrage
Attack on Titan Flash fangame
Bass Masters 2000
Bomberman Hero
Charge N' Blast
CIA Operative
College Hoops
Conflict Desert Storm
Cooking Mama: PETA Edition
Earth Defense Force 2017
Erie
Extreme Drive
FOX Sports College Hoops '99
Grass Roots
The Impossible Game
Insanidade
Largo Winch .//Commando Sar
Miami Traffic 3
NEO AQUARIUM
New Super Mario Br0s 3 (an unofficial Platform Hell New Super Mario Bros. game)
Neko Fight
Oswald the Elephant
Penumbra: Black Plague
Phobia: The Fear of the Darkness
Punky Skunk
Purin to Ofuro
Rascal
Rubber Ninjas
Rugrats Scavenger Hunt
The Sniper 2
Soda Drinker PRO
Species (not the movie series named Species)
Supra Mayro Kratt (a shoddy fan-game of Super Mario Kart)
The Theater
Typing of the Dead Trial version
WinBack
Zoo Tycoon (demo)
---
Critikal's works provide examples of:
---
"Well, that's the end of this article. Remember to rate the article, comment the article, and subscribe if you want to see articles similar to this one. See ya."
---