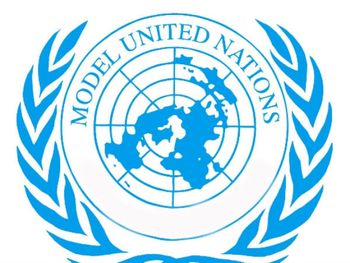 "Order, order! Do you kids want to be like the real U.N., or do you just want to squabble and waste time?"
If The Other Wiki is to be believed, then "Model United Nations (also Model UN or MUN) is an academic simulation of the United Nations that aims to educate participants about civics, effective communication, globalization and multilateral diplomacy." That is to say, it is supposed to be Exactly What It Says on the Tin.
This... is a simplification. What it really is, is LARPing in suits and being able to pass it off as an educational activity on your résumé/college applications. You might want to play Hearts of Iron with hard AI for a more comfortable experience.
Before we get into that, let's get into the theory: A high school, university or other organization says, "Let's have a Model UN conference!" What this means is that they will invest great (or not-so-great) quantities of cash into getting a venue, printing materials, and possibly snacks for "volunteers", and then call upon either high schools or universities to sign up and send students to the venue. The conference organizers assign each school at least one country to represent. At the actual conference, the organizers have thoughtfully created committees in which the students (called delegates) are supposed to discuss hot-topic international issues while role-playing a diplomat from one of the countries their school has been chosen to represent. Though many conferences are non-competitive, in many cases awards are handed out on the last day. May the best country win.
Before getting into too much detail, there are generally considered to be three types of committee: the General Assembly committees, which can be quite large (400+ delegates is common at large university-level conferences), and contain representatives of every UN country (so long as they have a school attached to them), slowly discussing some issue of general and long-term importance; specialized committees, which are rather smaller (generally no more than 50 people) discussing a rather more... well... specialized... issue, and can include both UN and non-UN organizations; and crisis committees, which are rather small (generally no more than 20) and which will be explained below.
In practice, things have gotten rather out of hand. It all started when conferences started simulating non-UN bodies, like the European Union or the League of Arab States. Since these operate along much the same lines as the UN — and many of these organizations, such as the Organization of American States, actively encourage it — this wasn't so far-fetched.
At about the same time, some actual LARPer or or Tabletop RPG player got in on the action and said "hey, wouldn't it be cool if we had the topic change constantly?" Conference organizers presumably had a test, and pronounced it good. The bizarre entity known as the crisis committee was born.
In this variant, a smaller committee (for instance, the 15-member United Nations Security Council) is given not a single topic to discuss, but several, emerging topics. Through clever use of fake intelligence reports, news articles, acting (generally either hamtastic or completely unbelievable) and (recently) video and audio recordings, a group of people (known as the crisis staff, but really a collective Game Master) tries to confuse the hell out of the participating delegates as they deal with a situation of... variable realism. Cue several crisis cabinets of varying insanity being created: Angola declaring war on the USA? The Soviet Union teaming up with space aliens to Take Over the World?note Obviously, somebody is reading too much Alternate History Anything goes in crisis committees, and it's a perpetual inside joke among MUN delegates when they're praised for "learning about world issues" when all they do in crisis committee is write a position paper and throw away country policy about the second they step in the door.
When this started with the Security Council, people started saying "Hey, I know! Let's start doing other things!" Like what, you ask? It started (as usual) logically enough, with things like NATO, the European Union, and other inter-governmental organizations. UN-like, and still diplomatic.
However, at some point, someone had the bright idea of simulating national cabinets. Again, government-related, educational, realistic. There might even be diplomacy involved. Getting off-track, perhaps, but not too off track... yet.
And then someone had another bright idea: start doing things in the past or the future. Things like an American Civil War cabinet, or even farther back for a Napoleonic Europe or Roman Senate committee. And then someone said, "screw politics, we're simulating Al Capone's mob! Or a corporate board of directors! Or something!." And then (in the last couple of years), someone said, "Screw the real world, we're simulating Star Wars! Or 24! Or The Lord of the Rings! Or Lost! Or Batman!!" This has gotten so out of hand that some conferences don't simulate the United Nations at all... they have become Model United Nations In Name Only. The delegates don't mind. At least not most of them.
Of course, much of this only applies to the collegiate level; high-schools still insist on having educational content, and most conferences have successfully avoided In Name Only. That said, it's grown quite far from its humble origins.
---
Tropes:
---