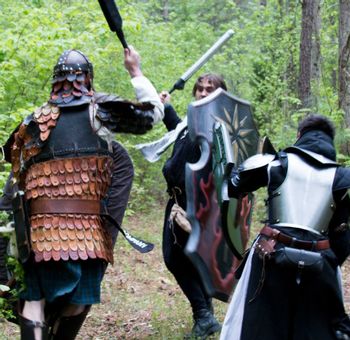 Lands of Exile
is a boffer-based Live-Action Role-Play operating out of North Carolina and founded by Claire Wilshire and Thomas Betts. They began playtesting in early 2014 before beginning their first official season in February of 2015.
100 years ago, a war between the good and evil races of the world ended with the triumph of the Allied races against the Drow and their allies. In their defeat, they were banished to the Exiled Lands, a far-off, unexplored continent across the ocean. All was right with the world.
That all changed recently, as the continent was invaded by dragons. The beasts were unkillable and unstoppable, and the Allied Races had no choice but to flee on rumors that dragons could not fly across the vast ocean. With no where else to go, the refugees of the Allied Races try to make a new home in the Lands of Exile, where their enemies have made their homes for the last century.
Lands of Exile is a persistent world LARP, where the player's choices and actions have great effects on the overarching storyline and the events of each monthly LARP. Players take the role of any of the Allied Races and make a character through a points based system, rather than standard class-based creation.
The game is currently in its fourth active Season.
The game contains examples of the following tropes: