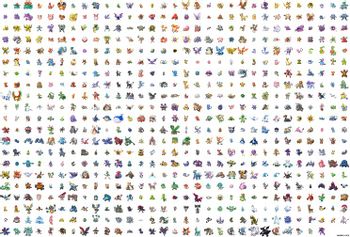 Douche
: Tutti i
Pokémon
?
Stai scherzando?
Stai mandando dei
BAMBINI
in giro per il mondo per trovare
TUTTI I POKÉMON?
Non ci trovi
NULLA
di pericolosamente irresponsabile?
Oak
: No!
ACCHIAPPALI TUTTI!
In soldoni, c'è un certo numero di qualcosa sparpagliati qui e lì, e i personaggi devono trovarli. Può trattarsi di altri membri del cast, artefatti magici, pezzi di un singolo artefatto o qualche altro MacGuffin, ma in qualche modo ognuno di questi può essere implicato in una trama individuale che può allungarsi da un episodio fino a un intero Arco Narrativo. La forma più base del Buono Per La Trama.
Ideale per le serie TV, visto che ogni episodio può avere i suoi ostacoli, antagonisti e ambientazioni ed essere scritto da un autore diverso; almeno finché ogni puntata finisca con il ritrovamento di un nuovo buono per la trama. La serie poi può dire di avere un Arco Narrativo composto da tante storie singole. Ha anche trovato popolarità per un po' nel mondo dei videogiochi data la sua semplicità, come nella serie di Commander Keen.
Le Dodici Fatiche di Ercole sono forse l'esempio più antico. (Originariamente Hercules doveva farne solo dieci, ma il Game Master decise che due non valevano e quindi gliene affibbiò due extra. Capita ancora oggi.)
Spesso la ragione dietro l'Andare In Giro, specialmente se serve Per Essere Un Campione.
Nei videogiochi, può anche essere categorizzato come:
Cruciale: Tutti i pezzi di qualcosa devono essere collezionati per completare il gioco e sono necessari alla trama. Spesso ognuno dei pezzi è protetto da un guardiano. Un esempio è The Legend Of Zelda in tutte le sue incarnazioni, in cui si devono trovare pezzi della Triforza/Medaglioni/Pietre ecc.
Semi-importante: Solo una parte deve essere collezionata per completare il gioco, a meno che non si voglia ottenere il Completamento Al Cento Per Cento. Super Mario 64 ne è un esempio.
Opzionale: Nessuno degli artefatti di questo tipo è necessario per completare il gioco, sempre a meno di Completamento Al Cento Per Cento. Sonic The Hedgehog ne è un esempio. Spesso sono ottenuti in Livelli Bonus.
Affine a e contrastante con Uccidili Tutti, che ha uno schema simile... ma un approccio più distruttivo.
Se l'oggetto in questione può essere comprato, allora speriamo sia crack. Se ogni oggetto è utile da solo, ma molto potente se insieme agli altri, è a causa del Bonus Da Set Completo .
---
Esempi: