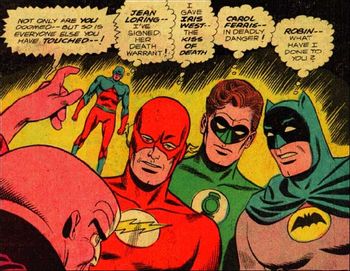 Lord knows where they got it from, but many people interpret Batman as having plenty of Ho Yay. One Moral Guardian, Frederic Wertham, famously claimed that it was "homosexual propaganda". Some later writers intentionally joked around with this.
Reputedly, this (plus the spandex-clad TV series) is how the name "Bruce" became associated with homosexuality. Of course, his original ward's name is suggestive enough on its own.
Grant Morrison claims homoerotic themes have been present in Batman from the beginning.
---
open/close all folders
Batman and Robin
The Joker makes a couple of Ho Yay jokes about Robin in Grant Morrison's Arkham Asylum. After the Joker greets Batman with a slap on the buttocks (throwing him into a rage), he asks, "How is the Boy Wonder? Started shaving yet?" Later, when Batman claims to see nothing in an Inkblot Test card, the Joker says, "Not even a cute little long-legged boy in swim trunks?" Although this probably says more about the Joker than about Batman.
In the first issue of Harley Quinn's original solo series, a theme park is opened, with versions of Batman and Robin. Robin is cast as a curvaceous, pretty young woman, which the producer explains that:

Producer

: I know some stories say that the kid's a

guy

—but in a costume like

that

? C'mon—this is

family

entertainment!

Batman refers to Robin as being his "partner", and didn't stop even when "partner" took on the meaning of "lover".
The relationship between Batman and his Robins is explicitly stated as being not quite father-and-son. Dick's affection for Bruce, in particular, is canonically judged by other characters as being, well, a little too much.

Basically the entirety of Outsiders (the Judd Winick one), with a few coy references in Titans (the Devin Grayson one).
During the Hugo Strange arc in Batman: Gotham Knights, Hugo psycho analyses Dick's feelings for Batman as being sexual in nature.
To be fair, that arc was written by Devin Grayson, who has long held the view that Dick has a deep rooted sexual attraction to Bruce Wayne, despite him acting as a father figure.
Also, during this arc, Strange is depicted as extremely, y'know, crazy.
Not to mention that the second Robin (who was the first child to be adopted by Bruce, years before even Dick), Jason Todd, went on a Roaring Rampage of Revenge after he came Back from the Dead that was mostly motivated by his finding out that Bruce hadn't broken his one rule to avenge Jason's death.

Jason: And doing it because... ...because he took me away from you.

Though that's more likely due to Jason seeing Bruce as a father more than anything else.

In Batman: Hush, Catwoman refers to Tim Drake as Batman's 'toy wonder' several times. Although the first time she says this, she has just been kissing Batman. The second time, she's in a full relationship with Batman.
The first two pages of the 1960s Batman manga have Dick being incredibly angry and offensive just because a random woman starts talking to Bruce at a fashion show.
Batman and the Joker
Among other things, Joker is occasionally thought to have feelings for Batman that go beyond simple obsession and into romantic obsession. In one scene, he tortures Lex Luthor, and Lex Luthor asks him if he is upset that Batman loves Catwoman more than him. Joker looks almost adorably bewildered for a moment before flying into a rage and jacking up the torture level.

"Joker, does it ever bother you... really bother you... that Batman will always like Catwoman better? Blow up his city all you want, he'll never take you to the prom!"

Subverted in a Batman Confidential, when Batman commits a crime as his criminal persona, Matches Malone, so he'll get sent to jail, get put in the cell next to Joker's, and pick his brains. After Joker recognizes him-in about five seconds-Batman changes clothes right there, causing Joker to turn around and cover his eyes. "Don't worry. I like-a the ladies."
More or less confirmed in the Cacophony mini-series where Joker's stated dreams are to humiliate Batman, kill him, then violate his corpse sexually. (What? You were expecting something ROMANTIC or even sane from the Joker?)
Then, of course, you have Joker in Batman: The Dark Knight Returns. "Batman. Darling."
See also the relationship between Batman and the Joker in the New 52. Artist Greg Capullo says in an interview with the website Comic Book Resources (29th April 2015):

In Death of the Family, Batman has an internal monologue about how the Joker's eyes never change, never revealing anything about his thoughts or emotions. Except for love for Batman.
Batman and Superman
Batman and Harvey Dent
There's quite a bit between Batman and Harvey Dent - in both the guise of Bruce Wayne and Batman. Many depictions of the two revolve around Batman's guilt over Harvey becoming Two-Face.
In The Long Halloween, when Harvey is suspected of being the Holiday killer, Batman immediately jumps to his defense.
In Two-Face: Year One, Harvey states thats through everything, Bruce was the only person who never abandoned him. Also, when faced with the decision on whether or not to kill Bruce, Harvey doesn't listen to the coin. Mind you, he hasn't done that for any of his canonical love interests.
The comic Batman: Jekyll & Hyde has moments such as Two-face tenderly caressing Batman's cheek◊. It certainly looks romantic out of content.
Later on, Batman begs Harvey to stay with him after Harvey tries to kill off Two-Face for good by shooting himself. Harvey managed to survive the attempt, but Bruce is clearly quite shaken by the event.
The DC Animated Universe is full of it. In the Two-Face two parter, Batman even has a nightmare over being unable to save Harvey.
In a later episode, Second Chances, Batman tells Harvey it's "the coin, or me". And Harvey almost chooses him, before changing his mind and falling after the coin. Batman then proceeds to dive off the building after him. Sure, jumping off buildings is an average Tuesday for the Batman, but it's the thought that counts.
Later on in that same episode:

Harvey: Bruce, good old Bruce. Always there. You never give up on me.

The comics based on the animated series and The New Batman Adventures don't shy away from it either, many of the issues with Harvey involve Bruce visting him weekly at Arkham to keep on track of his recovery. He even pays Harvey's medical bills.
In another issue, when Robin implies Harvey was never close to recovery, Batman responds with this:

Batman: You don't know him like I do.

Some other moments from the animated show companion comics include: Harvey saying that even though he wanted to kill Batman, when actually faced with the chance to do so, he doesn't know what to do and can't make sense of it. There's also that time he took a bullet for Batman, and that time Batman jumped out of a plane for him. The fall down involves Harvey clinging to Batman to what certainly looks like a very tight hug (then again, he is clinging for dear life), as Batman promises him that everything will be alright◊.
The 2017 animated movie based on the 1960's Batman show, Batman vs. Two-Face, also has quite a bit. The movie includes Batman smiling as he takes Harvey's hand◊, and an exhausted Harvey falling into Batman's arms◊.
In the New 52, the two are childhood friends who met at a rehab center for young boys. The young Bruce and Harvey, who at the time, didn't know each other's real names, promised that they'd kill one anothers greatest enemies. The man who murdered Bruce's parents and Harvey's father respectively.
Harley Quinn and Poison Ivy
Three words: Harley and Ivy. There are even fast-food placemats that insinuate these Batman villainesses might be a lesbian couple.
Lampshaded by Batgirl once, when she teamed up with Harley. Harley got her right back:note

Harley: Oh, Ivy can't hurt me. She gave me a special shot once so we can play and I won't get sick at all.

Batgirl: You mean you two...?

Harley: What?

Batgirl: You and Ivy are... well... *crosses her index and middle fingers in that "I'm implying you're in a relationship" gesture* friends...

Harley: Yeah...?

Batgirl: Y'know... friends... like...

Harley: Like what everybody says about you and Supergirl?

Batgirl: What?! Who says...? Forget it! Forget it!

Harley's expression when talking about how Ivy can't hurt her is effin' priceless.
The suggestive drawings of the two by Bruce Timm don't exactly serve to disprove the implications between them.
Let's face it. It's not even subtext, it's just... TEXT.
Dini has confirmed their relationship as romantic and sexual. Not that Word of God was needed in this case. Unless you were denser than lead.
Two throw-away characters in a Harley and Ivy comic (based on the animated series) are depicted as being gay themselves as a sort of joke, a pair of lumberjacks called Slash and Burn (Slash has chainsaws, Burn has a flamethrower). When they try to bring in Harley and Ivy, the two try to get them to let them go free by asking if they would do it for a pair of cute girls like themselves. The two just look at each other knowingly before jumping into combat.
In the Batman Black and White backup comic "The Bet", written by Paul Dini, we see Harley saying that she misses men, with pictures of several specimens on the wall of her cell. She asks Poison Ivy, in the next cell, if she ever gets "the lonelies". Red says she has everything she needs. She's lying on her bed with her plants...and pictures of her and Harley. note Harley's response? "No. I mean, like, for guys." Ivy admits that she does need to "mist her fern" every once in a while.
The relationship continues into the New 52: Harley's first annual, written by Jimmy Palmiotti and Amanda Conner, features her deliberately kissing Ivy to break her out of brainwashing (it doesn't work, but still), and in a separate moment declaring they have a connection beyond what most people can even begin to understand.
Then there's the New 52's Harley Quinn #15, again by Palmiotti and Conner, which sees Harley and Ivy getting up close and personal on Harley's floor before they're interrupted.
Given the above, it's not much of a surprise that Palmiotti and Conner have said they see Harley and Ivy as being girlfriends who aren't hung up over monogamy.
Later on, in the Rebirth era Harley Quinn series, ambiguity was finally thrown away altogether with on-panel kissing and Sexy Discretion Shots.
Their team-ups in Batman: The Animated Series hint at this about as much as a 1990s animated series for kids could get away with. For instance, they were repeatedly seen hiding out together in quarters with only one bed.
Others
---