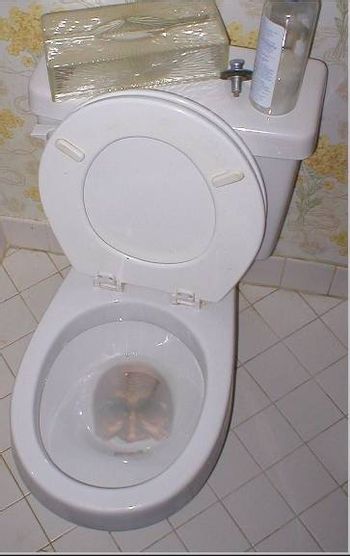 For a site that's designed to
scare the shit out of you
, there sure are a lot of funny moments to be had.
---
SCP Files:
---
Other Content:
open/close all folders
Attempts to Kill SCP- 682
For context,
SCP-682
is a vaguely lizard-like...
thing
... that has become the living embodiment of
Why Won't You Die?
. Hell, it has to be kept in a 5m
3
cube
filled with hydrochloric acid
just to keep it sedate (as it is
also
a murderous
Misanthrope Supreme
).
Naturally
,
other SCPs are tested to see if 682 can be killed.
Hilarity Ensues
.
SCP-826 is a pair of bookends that can transport people into the universe of any story put between them.

SCP-826, equipped with one (1) copy of "The Generally Nice, Friendly Thing That Can And Will Kill SCP-682 Permanently if it So Much As Spots That Damn Lizard", a 12-page short story written by Dr. ██████, detailing a large, friendly monster that is stated to be capable of permanently killing SCP-682, and 1 (one) D-Class personnel (D-682-32) equipped with 1 (one) 2010 Ducati Multistrada motorcycle for the purpose of evading SCP-682.
[...]
Recovery personnel describe the story's pasture as having become a "Battleground", featuring impact craters with enormous body parts scattered around. Parts are thought to be from the story's "Thing". Recovered story is retitled "The Generally Nice, Friendly Thing That Tried To Kill SCP-682 Permanently But Failed", and is noticeably thicker, with 209 individual pages that detail an epic battle between the two monsters.

Amongst the procedures trying to kill 682, one of the suggested ideas would be... to drop it from a really high place. Naturally, this gets denied.
SCP-999:

It is a very friendly blob of orange goo that makes people happier. Naturally, they decided to use it on 682. Hilarity Ensues.
It even amuses a doctor to the point of wanting the security tapes of the incident.

Memo from Dr. ████: "While the test was unsuccessful and ended in tragedy, that had to be the funniest thing I have ever seen. I never thought I'd see the day when I would regard SCP-682 as "cute". Please send me a copy of the security tapes ASAP."

Introducing SCP-682 to SCP-053:

She ends up scribbling on 682 with crayons. The fact that SCP-682 let this happen, and the fact that they get along so well, are somewhere between this and heartwarming; the theories concerning why this happened are Nightmare Fuel, though (SCP-053 being a young girl who also happens to be Hate Plague given human form).
In a Crosses the Line Twice example, the above inspires a "guest researcher" to put a child with 682 (one normal, one numbed so as not to cry), with the expected grisly result. Dr. Clef proceeds to throw the researcher to 682, and asks what the hell he was thinking in putting children with that monster.

The very idea of 682 being chased around by a little bunny rabbit is just hilarious.
During the testing of SCP-261, some of the researchers put in 500 yen and asked to be given something that could kill 682. The product they were given was a number of stick-on tattoos that basically called them idiots. In the notes, they were mocked for thinking that they could get something to get rid of 682 for just 500 yen. The constant attempts to get something to kill 682 are then lampshaded, with the question of if it's some initiation ritual amongst new researchers to do so.
Someone once tried to introduce Dr. Clef to 682. It just stared at him while the doctor managed to escape. It absolutely wasn't an attempt on Dr. Clef's life, and 682 murdered the scientist who issued the experiment by repeatedly smashing his head without moving from his containment, or moving at all.
After SCP-017 loses in a fight with 682, 682 says "You foul bags of tissue; you don't [DATA EXPUNGED].".
An attempt to bring SCP-096 in to kill 682 sees the two of them duke it out for 27 hours before they finally stop. The result? 096 huddled in a Troubled Fetal Position and 682 losing 85% of its body and being rendered utterly exhausted. So, obviously, nobody won. Trying to repeat the experiment resulted in SCP-096 clawing at its own face and refusing to fight SCP-682.
Once they tried to use me, SCP-426. 682 did believe it had become me, a toaster... a murderous, toast-shooting toaster. But I have to admit, the bread was perfectly toasted.
They must be running out of ideas, or being driven batshit insane, because apparently eating 682 came up once as a suggestion. Yes, it was a suggestion by Dr. Bright, but the fact that at least one other person went along with it...

219. The fact that SCP-682 regenerates all lost tissue does not make it an "infinite hamburgers machine".

1. Most especially because they tasted horrible.

When they used SCP-507, a dimension-hopping humanoid, to terminate 682, it actually works. 63 hours later, SCP-507 returns, but this time with a 682 with wings, and a note:

Dear Universe 5802-Sigma-Blue-Romeo;

It's your problem now, suckers.

They even set Dr. Spanko against 682 by informing him that 682 is trying to rid the world of gummy worms. He confronts 682. 682 tells him to leave. He politely obeys.
SCP-2305 spat out a failed attempt to kill 682. Apparently, reducing it to 10% of its mass and then blowing it up with enough nukes to destroy much of the moon only resulted in 682 getting big enough to eat entire planets when it recovered. And at the end, SCP-2305 had this to say:

"The moral of the story:" This is the way the world ends. Not with a bang, but a chomp. But for reals, don't fuck with the gecko. >:(

At some point, even SCP-2578 took a crack at taking 682 down. The thing is, the Foundation didn't actually ask them to do so, and wasn't even expecting the attack; during a relatively quiet work day while maintenance was being performed on 682's enclosure, 682 found itself being shot in the head five times, followed by 682 shouting "FUCK YOU AND ALL THREE OF YOUR MOONS!" at the ceiling. It's implied that the Foundation had no idea what was going on until 2578 sent them an email apologizing for being unable to deal with their "unpleasant lizard" but clarifying that no, they didn't miss.
Another plan they don't even entertain considering is locking 682 in a cell with 173 with a picture of 096 on it. The problem is, even if 682 is killed, nothing can be done. If someone looks in, 096 attacks them. If no one looks in, 173 is loose. The entire idea is so stupidly suicidal that they conclude the notes with "Denied with vehemence."
An attempt at using Dr. King and a firing squad leads to the guards' bullets becoming apple seeds, to the doctor's fury and the lizard's amusement.

Dr. King: If only SCP-682 could have turned into an apple seed...

Oh, and for the record, killing 682 can technically be done. How? We don't know. The Foundation doesn't know. Mr. Deeds doesn't know. But it still happened. And when SCP 682 was shown it, it noticeably freaked out.

Agent Straight: That's impossible. That's fucking impossible. There's no way.

The problem with this method makes it so overkill and extreme to make it impossible to reenact. Going through the portal and coming back kills everything on Earth in the home universe. It might even kill everything in that reality everywhere. Yes it a 100% guaranteed kill, but it's a Pyrrhic Victory.

One attempt to "kill" him (implied to have been ordered by the O5 council no less) involved a deceased Equus ferus and a baseball bat. 682 proceed to pick up the bat and beat the dead horse with it.

Notes: Success!

They once fed it a capsule of SCP-3521. After predictably being buried under a massive pile of radioactive bananas, SCP-682 proceeded to eat all of the bananas before belching out a radioactive Death Ray.
One attempt was with SCP-055. It went about as well as you'd expect.

Item: SCP-055
Tissue Test Record: [Data Lost]
Termination Test Record: [Data Lost]

An attempt to kill SCP-682 with SCP-272 results in 682 briefly becoming a living pinball. It survives, of course, but the sight of the big lizard being tossed around like a ragdoll amidst lighting tomfoolery that would not have been out of place in a rave must have been extremely cathartic while it lasted.

SCP-682 is released into enclosure amidst a circular array of thirty (30) two-thousand-watt (2,000W) stadium lights, of which only one (1) is switched on. SCP-272 is dropped onto SCP-682's shadow, and embeds itself in the reinforced concrete as expected. SCP-682 quickly discovers that it is trapped by SCP-272's presence in its shadow, and starts to attack SCP-272. SCP-682 then stops midway through its attack, examines 272 closely, bellows an incomprehensible string of words, and slowly backs away from 272.

All thirty stadium lights are then switched on and off in random stroboscopic "disco" pattern, at 4 Hz. SCP-682 is forcibly hurled around the enclosure in random directions, in accordance with the stroboscopic pattern, and sustains heavy damage.

After fifty-five (55) minutes of this process, >95% of SCP-682's epidermis has been abraded away, its anterior left limb has been severed, sixty-three (63) of its teeth have been broken out of its jaw, and its skull has been fractured to the point that both its eyeballs have been dislodged from their sockets. At this point, SCP-682's exposed sub-dermal tissue begins to luminesce. The luminescence rapidly increases until it is brighter than the stadium lights, which eliminates SCP-682's shadow entirely. SCP-682 then collapses, and is no longer affected by the stroboscopic pattern.

SCP-682 continues luminescing for forty-eight (48) hours, remaining immobile for the duration; D-class personnel who recovered SCP-272 from the enclosure were not attacked, but sustained permanent retinal damage from SCP-682's luminescence despite wearing eye shields. After 48 hours, SCP-682 resumes normal activity.

Note: How did 682 know not to attack 272? Did it recognize the artifact? Was it able to read the glyphs carved into 272's surface? If 682 is literate, is it vulnerable to textual memetic-kill agents? Suggested methods for a viability study are welcome.

As a side note, the attempt involving SCP-1056 (it resizes things) reveals that the Foundation has a security team called MTF-Lambda-9, code name "Big Fucking Guns."
One anonymous researcher decided to release SCP-682 into the wild and analyze its behavior to see what it would do, in hopes of pacifying it. It was immediately denied by a very irritated O5 member.

Notes by O5-██: I'll tell you what it'll do. It'll go out for a nice stroll, murder a few innocent people, go fishing, slaughter a few more innocent people, start up a tech-company, eat a few more innocent people, go on a vacation to Florida, dismember a few more innocent people! I swear, when I find out who wrote this, you can personally enter 682's containment chamber to analyse him yourself!
Foundation Tales
Forum Discussion Posts
A great indicative of if a joke is good is when people say "I wish I could upvote comments..."
Meta/Other
On the defunct official Tumblr blog, what is one potential cause for the Foundation's collapse? Why, Kirby with a gun, that's what! Made better with the only descriptor of the events being that "it was a dark day."
In the guide Zen and the Art of [DATA EXPUNGED], the author references a quote from SCP-426, in which a man, believing himself to be a toaster, "attempted [REDACTED] with (426)." The bluntness of the author's statement is what sells it.

Dude fucked a toaster. I wouldn't have used that expungement, but you know that this guy died because he fucked a toaster. It's barely expunged at all.

DJkaktus is one of the most popular writers on the site, having written a several articles with over 1000 upvotes, being the winner of two contests and the runner up of several others. If you were to take a look at their author page, you might think that the fame is kinda getting to their head.

VOTED WIKI'S MOST HUMBLE MANnote

Some of the declassifications can be pretty funny in their own right. Take, for example, this excerpt from the declassification of SCP-5005:

His plans don't go perfectly, as pretty much the only people who want to live in a freezing cold voidscape are edgy brooding artists who want to be pretentious. [...] The barkeeper, Osmanoglu, describes Delacroix as a sad man, who realized that his utopian paradise had failed and was now just a place for poets to be edgy and drink absinthe.

The Standard Form For Downvotes, a checklist of why one is giving an SCP author "The Reason You Suck" Speech, including things like:

You appear to have accidentally posted an article intended for the Shark Punching Center (SPC).

Rape

is just not a good SCP topic/effect.

Neither is

necrophilia

. Your SCP should keep me up at night, but not because I'm wondering when you'll be arrested.

You keep using the word "memetic."

I do not think it means what you think it means.

Your SCP enters a "rage state" and you were not writing about it

visiting New Jersey

.

There's a notice at the bottom of the page, warning you not to actually post the form on any articles you've downvoted. It obviously wasn't intended to be funny, but the Mood Whiplash between the snarky list and the dead-serious warning is hilarious.

SCP-4231 is mostly very not funny and extremely dark, hence putting this here and not in the "SCP entries" section, but there is something incongruous about discovering that Clef is 5ft3.
---
NO!! SCP-███ IS NOT MEANT TO BE FUNNY,
EVER!!!
---