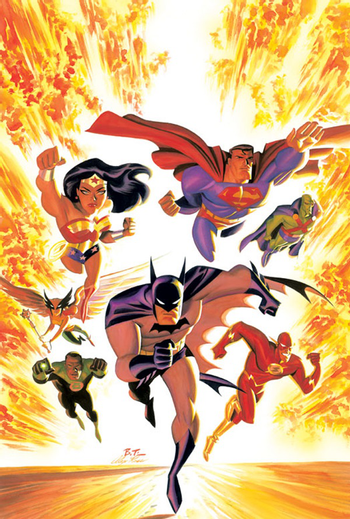 The
DC Animated Universe
(DCAU for short; also referred to as the "Timmverse" by fans) is a group of animated adaptations based on
DC Comics
characters and, unlike
other DC adaptations
, all sharing the same continuity.
Batman: The Animated Series began first, intended as something of a tie-in with Batman Returns but with its own distinct canon and take on the mythos and airing on the Fox Kids network. The high-quality animation, scripting and voice work received near instant praise, helping to redefine Batman to the general public as neither the campy Adam West Batman or the ultra dark Michael Keaton Batman, but as someone who often has to protect his Rogues Gallery from themselves. The specific character design is referred to as Timm Style, and has been very influential with elements based on it seen in many western animation action shows. After 85 episodes over 3 seasons (65 episodes in the first season alone, generally unheard of) the show ended in 1995. Soon afterward, the same creators went on to make Superman: The Animated Series for the Kids' WB! network, featuring a similar but more streamlined art style. When the license to Batman: TAS on Fox Kids expired, they went on to make an Art-Shifted Sequel called The New Batman Adventures for the Kids WB, which in practice was more of a revival and featured a massive art redesign to match up with Superman: TAS.
The inevitable crossover occurred with "World's Finest", which teamed Batman and Superman against the Joker and Lex Luthor and firmly placed them in a Shared Universe. After several more crossovers, both shows ended about the same time in 1999, when Batman Beyond came on to take their place. While initially divisive for its premise as a teenage Batman in the future mentored by an elderly Bruce Wayne, Batman Beyond was able to continue the legacy of the prior shows and had many standout moments of its own. In fact, an episode featuring a future version of the Justice League proved popular enough that Cartoon Network made an order for the production to create Justice League in 2001. This new show introduced what can be considered a third Timm Style revamp, an attempt to include more individuality between characters that was lost with the streamlined design. With two seasons focusing on seven core members of the Justice League, the production staff made a Retool for the series to include dozens of characters never before seen in the DCAU: Justice League Unlimited. After another couple of seasons, reaching the absolute height of ambition to showcase the entire DC Comics roster, the DCAU officially ended in 2006, but had a few semi-returns in the latter half of The New '10s.
There are two other shows that take place in the same universe but are considered more of on the fringe than being a core series. The first is Static Shock, based on the comics character Static and initially taking place in its own continuity (there is a reference to Superman as a fictional character in an early episode) but eventually having contemporary Batman and Justice League crossovers with a Batman Beyond appearance via Time Travel, Static himself appears in Justice League Unlimited in another time travel story. The second is The Zeta Project, which was a Spin-Off inspired by a standalone episode of Beyond about a shapeshifting android assassin gaining a conscience and his struggles to avoid his handlers who want to reprogram him, unique in that it features entirely original characters and stories, excepting a later Batman Beyond crossover. Neither show was as successful as the primary shows, but they had their fans.
There are a few web cartoons that are on the fringe level. The first is Lobo (Webseries), a completely adult oriented entry starring Lobo. It was originally going to be a family friendly cartoon on Kids WB but got retooled because having the lead of an adult oriented franchise for a kids show is problematic. The second is Gotham Girls which featured a lot of female characters associated with Batman. It paved the way for Gotham City Sirens.
It is generally accepted that the DC Animated Universe includes:<!—index—>
Webseries set in the DC Animated Universe cartoons:
Comic Books based on the DC Animated Universe include:
Tabletop Games based on the DC Animated Universe:
Batman: The Animated Series Adventures
Video Games based on the DC Animated Universe:
Batman: The Animated Series
The Adventures of Batman and Robin
Batman Beyond: Return of the Joker
Batman: Chaos in Gotham
Batman: Gotham City Racer
Justice League: Injustice for All
Superman: Countdown to Apokolips
Justice League: Chronicles
<!—/index—>
The DC Animated Universe is sometimes referred to as the "Timmverse" (after Bruce Timm) or the "Diniverse" (afterPaul Dini). It ended production with the final episode of Justice League Unlimited. However, its influence continues to this day both in Comics and Western Animation, and due to the distinct art style of the 'verse (aka Timm Style) being applied to later animated adaptations of The DCU, other properties are frequently and incorrectly cited as part of the DCAU. It is also partially responsible for most of Warner Bros. Animation's production having a Latin American Dub produced in Venezuela.
The Direct to Video DC Universe Animated Original Movies line is considered something of a Spiritual Successor, featuring many of the same production staff with a similar design aesthetic and story tone. The films were originally self contained but eventually formed two sub-series called the DC Animated Movie Universe and Tomorrowverse, both being an Alternate Continuity Shared Universe to each other and the DCAU. Some of these works are extremely close to the DCAU in some fashion, but ultimately in an Alternate Continuity all the same:
Superman: Brainiac Attacks: a tie-in work for Superman Returns. The production team used the Superman: TAS character designs and many of the same voice actors, but otherwise was not intended to be part of the DCAU and has several contradictions (Brainiac is treated as his first appearance).
Superman: Doomsday: The art style is obviously influenced by Timm Style, but the specific character designs are different (Lois Lane, most obviously) and it has a darker color palette.
Justice League: Crisis on Two Earths: originated as a DTV midquel movie between Justice League and Justice League Unlimited called Justice League: Worlds Collide, but it was cancelled at the last minute before recording started. Years later, they decided to turn it into an original story with original character designs. The overall script was basically unchanged, though, and the story connections are obvious.
Justice League: Gods and Monsters was overseen by Bruce Timm and uses his art style, but it's an Alternate Universe-style story with a radically re-imagined Superman, Batman and Wonder Woman all with different alter-egos.
Batman and Harley Quinn (2017) was overseen by Bruce Timm and is done in a similar art style to The New Batman Adventures, serving as a throwback film to several staples of Batman media, including the animated series. Several statements from co-writer Jim Krieg, or the film's composers have stated it likely takes place in something of an Alternate Continuity to Batman: The Animated Series.
Justice League vs. The Fatal Five (2019) was overseen by Bruce Timm and is done in the art style of Justice League Unlimited, though it's status as an official DCAU entry is unclear. Originally, the film was set to use the Phil Bourassa art style and models from Justice League: Crisis on Two Earths and Justice League: Doom, with the voice cast already having done their recordings. However, to avoid confusion with the New 52-based DCAMU movies, the film used the animation models from Justice League/Justice League Unlimited. While Bruce Timm hesitantly said the film was canon during the film's premiere at Wonder Con, in the audio commentary for the film, Timm admitted that due to the film being changed to a JLU type movie during post production, there would inevitably be some continuity issues. Ultimately, he said fans could decide on their own, and that he's a "firm believer in head-canon." The debate continues.
---
General tropes
<!—index—>
<!—/index—>
---
The DC Animated Universe provides examples of:
---