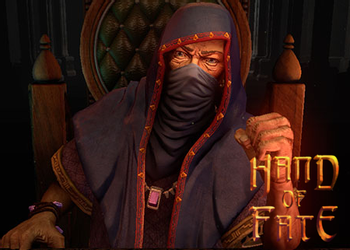 -
"Nous ne sommes que des pièces sur la table. Le cercle se répète à l'infini. La tour comprend-elle l'oublie qui l'engouffre quand on la replace dans la boite ? Le roi comprend-il qu'il ne règne véritablement sur rien ?"
— Le Dealer
Hand of fate est un jeu développé par Defiant Development sur le moteur Unity. Il s'agit d'un étrange mélange entre du Hack And Slash, du Rogue Like et du Jeu De Carte Virtuel.
Au début de chaque partie, il est possible de customiser deux paquets de cartes :- Le premier contient l'équipement qui pourra être gagner au fil des rencontres que le joueur fait.- Le second contient ces mêmes rencontres. Celle-ci sont disposé sur la table du jeu, et le joueurs passe de carte en carte pour atteindre soit un escalier pour aller au prochain lot de rencontre, soit le boss.
Le joueur doit gérer plusieurs ressource à savoir l'or, qui lui permettra d'acheter de l'équipement en boutique, et la nourriture qui se réduit petit à petit au fur et a mesure que le joueur avance. Quand le joueur est amené à combattre, une arène se matérialise en même temps que le joueur avec son équipement ainsi que ses opposants. Cependant la majeur partie du jeu se fera en face du Dealer, à prendre des décisions adéquates selon les rencontres que le joueur fait, de manière a gagner de l'équipement petit à petit tout en minimisant vos pertes de ressources et de santé.
Le but initial du joueur est de vaincre tout les "habillés" (Valet, Dame, et Roi) de chaque "couleur" principale que sont le sable, l'os, la peste, et la squame. Chacun attend au fond d'un donjon créé par le Dealer avec les cartes du deck de rencontre que le joueur a composé. Les règles du jeu change de manière à avantagé le boss que l'on va affronter.
A ne pas confondre avec Manos The Hands Of Fate qui est un film d'horreur des années 60. Ni avec le second livre de The Legend Of Kyrandia intitulé "The Hand of fate" qui est un Point N Click sorti en 1993
---
Le jeu présente des exemples de :
Boss Déguisé En Sbire : Littéralement. Les boss que vous aurez déja combattu pourront être recroiser à nouveau en temps que sbire
Femme d'Action : N'importe quel Dame de chaque couleur aura les moyens de vous botter les fesses.