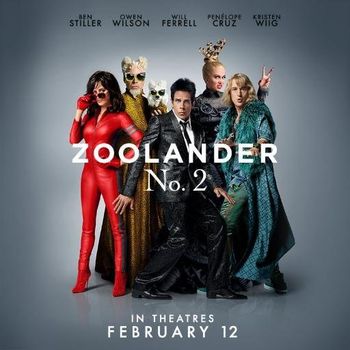 Zoolander 2 is the 2016 sequel to Zoolander. It was directed by Ben Stiller, with the screenplay by Stiller, John Hamburg, Nicholas Stoller and Justin Theroux. It was released on February 12, 2016.
Years after foiling Jacobim Mugatu's (Will Ferrell) plot to assassinate the Prime Minister of Malaysia, Derek Zoolander is called back into action. With Hansel McDonald's (Owen Wilson) help, he is the only one who can foil Mugatu's new plan to kill the world's most beautiful people.
The film also stars Penélope Cruz as Valentina Valencia, Kristen Wiig as Alexanya Atoz and Fred Armisen as VIP.
---
This film provides examples of:
---