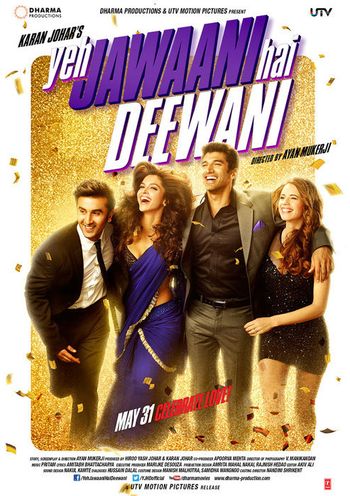 Ayan Mukherji's Yeh Jawaani Hai Deewani (It's a Young Man) is a 2013 Bollywood romantic comedy, and perhaps one of the first Bollywood romantic comedies to begin playing with the tropes associated with the genre.
Naina (Deepika Padukone) is a shy and nerdy medical student, smart but with few friends. A chance encounter with her old classmate Aditi (Kalki Koechlin) causes her to impulsively join a trip with her to Shimla, along with her friends Kabir 'Bunny' Thapar (Ranbir Kapoor) and Avi (Aditya Roy Kapoor). Naina falls for the funny and exciting Bunny, but finds that they want very different things from life. The memories of that trip live with her forever, but they mostly go their separate ways after. Eight years later, however, Aditi is about to get married, and Bunny is nowhere to be found.
YJHD was one of the most critically acclaimed Bollywood movies of 2013, with a rather clever subversion of a number of established Bollywood tropes.
---
This film contains examples of:
---