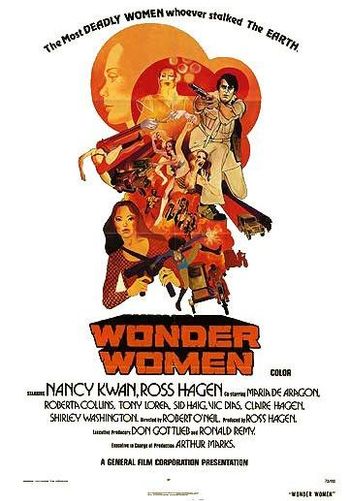 "This movie has nothing to do with the superhero Wonder Woman. It's just this weird crime caper with some sci-fi thrown in, shot in the Philippines for, like, a hundred dollars."
—
Kevin Murphy
managing expectations,
RiffTrax
Wonder Women is a 1973 American sci-fi action-crime horror exploitation film directed by Robert Vincent O'Neil (Angel (1984)), and produced by and stars Ross Hagen, a gravel-voiced tough guy known for appearing in such schlock as The Sidehackers and The Hellcats. Other notable cast members include Nancy Kwan as the villainess, Vic Diaz ("the Filipino Peter Lorre") as a zany sidekick, Maria de Aragon (Greedo herself) as a henchwoman scorned, and Sid Haig.
In the early seventies, the sinister Dr. Tsu intends to transplant the brain of a dying millionaire into a healthy young body. Naturally the only way to acquire a healthy young body is to kidnap a world-famous jai alai player, and naturally the only people qualified to kidnap a world-famous jai alai player are a half-dozen foxy babes armed with tranquillizer guns. This plan may sound foolproof, but it has one flaw: the world-famous jai alai player just happens to be insured by Lloyd's of London
for half a million dollars. Rather than pay the claim, the insurance brokers hire a detective named Mike Harber to search Manila for the missing athlete, and if possible bring him back alive.
---
Tropes:
---