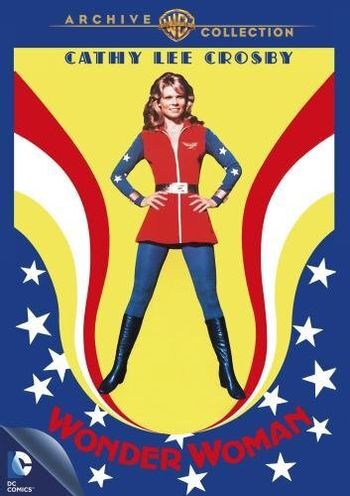 Wonder Woman
is a 1974 television film based on the
DC Comics
character of the same name
, starring
Cathy Lee Crosby
.
Crosby plays a blonde, non-powered Wonder Woman who does not wear the comic book uniform (and doesn't wear an uniform at all until the last part of the film), as she pursues the mysterious villain Abner Smith (Ricardo Montalbán) who has stolen a set of code books containing classified information about U.S. government field agents. Along the way, she has to outwit Smith's mooks, including a familiar face to her.
This film's particular portrayal of Wonder Woman was based upon the "I Ching" period in the comics when Diana had given up her superpowers and instead learned martial arts from the namesake master to work as a civilian crimefighter, though by the time it aired Wonder Woman had become a superhero again in the comics.
The film was actually a Pilot Movie for an intended television series being considered by ABC, but ABC ultimately didn't pick it up. ABC would end up developing a different Wonder Woman television concept that fit the more traditional presentation of the character, which eventually led to the more well-known TV series starring Lynda Carter that premiered in 1975. As for this film, Warner Bros. released this pilot into syndication as a stand-alone telefilm, eventually giving it a DVD release in 2012.
---
This film features examples of:
---