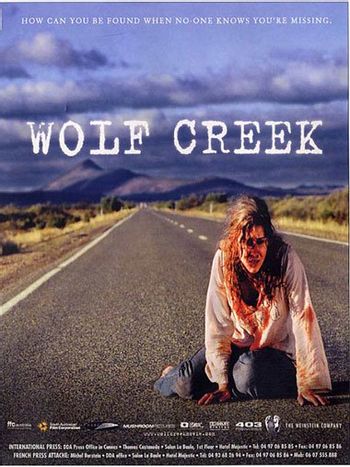 Wolf Creek is a 2005 Australian horror film directed by Greg McLean.
Very Loosely Based on a True Story (well, several); two English backpackers named Liz Hunter (Cassandra Magrath) and Kristy Earl (Kestie Morassi), plus an Australian one they pick up at a party named Ben Mitchell (Nathan Phillips), are heading out into the Australian wilderness to see the eponymous Wolf Creek; a crater formed by a meteorite impact. Once they've seen it and are leaving, however, they find that their car won't start. A seemingly friendly mechanic named Mick Taylor (John Jarratt) that seems to perfectly and flamboyantly embody every Australian stereotype rolls along and offers to tow their car back to his garage and fix their car for them. They accept; but it turns out he isn't so friendly.
In 2013, McLean decided to expand on the Mick Taylor mythos with a series of projects across several media. A film sequel was released in 2014, depicting Taylor going after a new set of victims and hunting one male tourist in particular across the country. A pair of prequel novels were written with the aid of well known Australian horror authors, one (Origin) exploring Mick's childhood and the beginnings of his proclivities as he comes of age, and the other (Desolation Game) showing his time in the Vietnam War and the start of his predatory stalker tendencies back home in the Outback. Most recently, the Wolf Creek television miniseries sequel explores what would happen if someone actually fought back against Mick and tracked him down out of vengeance for him slaughtering her family (in this case, an American girl named Eve) and the various risks she exposes herself to in doing so, including having to evade law enforcement (who quite rightly want to send her back to the US for her own well being and as she's breaking laws in her mission) and various other criminal entities roaming the desert. A second season, featuring Mick targeting a busload of tourists in the Outback, came out in late 2017.
Now has a character sheet.
---
This film provides examples of:
---