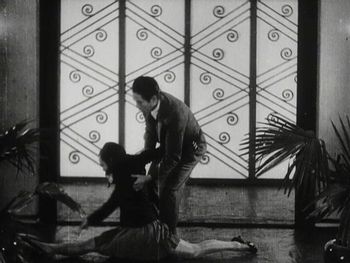 Wild Rose (Ye mei gui, 野玫瑰) is a 1932 Chinese silent film written and directed by Sun Yu.
Xiao Feng (17-year old Wang Renmei in her film debut) is a peasant girl who lives in a fishing village outside of Shanghai. She is a spirited type who takes care of her rather dissolute father and plays with the kids of the village in her spare time. Into her life comes Jiang Po (Jin Yan, a heartthrob of Chinese cinema), a painter and scion of an ultra-rich family. Xiao and Jiang fall in love, and eventually he takes her out of the village and home to his family mansion in Shanghai. However, the introduction to Jiang's stuffy father goes disastrously wrong, and Jiang and Xiao find themselves in the slums of Shanghai eking out an existence in poverty. They're happy regardless, however, until a single bad decision separates them—and war with Japan looms as another threat to happiness.
Not to be confused with a manga of the same name or a 2018 film of the same name.
---
Tropes: