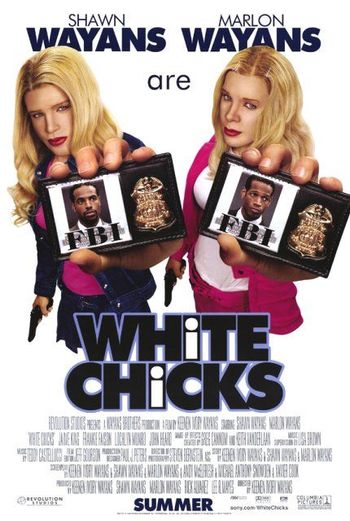 White Chicks is a 2004 comedy film written and directed by Keenen Ivory Wayans, starring his brothers Marlon and Shawn, from a screenplay co-written by the three of them alongside Xavier Cook, Andy McElfresh, and Michael Anthony Snowden. Terry Crews, Jaime King, Frankie Faison, Lochlyn Munro, Busy Philipps, Jennifer Carpenter, Maitland Ward, Anne Dudek, Jessica Cauffiel and John Heard also star in supporting roles.
Marcus and Kevin Copeland (respectively played by Marlon and Shawn) are brothers that work as FBI agents. After botching an undercover operation, they are saddled with the task of babysitting socialites Brittany and Tiffany Wilson, who are the targets of a kidnapping scheme. After a car accident leaves the girls with a few minor scratches that they consider disfiguring facial wounds, they refuse to go to their planned destination in the Hamptons, where a major FBI operation is covertly being set up to protect the girls and oust the kidnapper.
Not wanting to lose their jobs, Marcus and Kevin decide their only option is to go undercover themselves as the Wilson sisters, with great amounts of whiteface and silicone being used to turn two African-American men into white women. Hilarity Ensues.
---
This film provides examples of the following tropes:
---