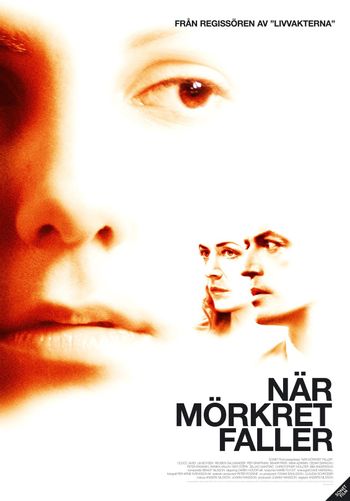 "There's too much prejudice. This has nothing to do with religion. Nor origin."
—Stella
When Darkness Falls (Swedish: När mörkret faller) is a 2006 Swedish anthology drama film by Anders Nilsson.
Leyla is the daughter of an Iranian immigrant family. Her older sister Nina is believed to be the bad seed of the family, because she allegedly is dating the wrong men, which isn't true. Leyla tries to protect and defend her sister but in the meantime the family hatches a horrible plan to restore their honor.
Carina is a television journalist and is married to the popular cameraman Håkan. But the picture of their happy marriage is just a delusion. At home, Håkan regularly snaps and beats his wife. One day, she can't stand it anymore and complains to the police. Their colleagues hold this against her. Carina thereupon addresses to the media — with bad consequences.
Aram owns a restaurant together with his two siblings. After three gangsters got the push by the bouncers, they decide to take revenge on them. One night they attack the restaurant and several people get shot and Aram is the only person who can identify the offender. From now on he receives death threats.
The film was shown at the Berlinale Filmfestival 2007 and won the Amnesty International Film Price in the same year.
---
This movie provides examples of:
---