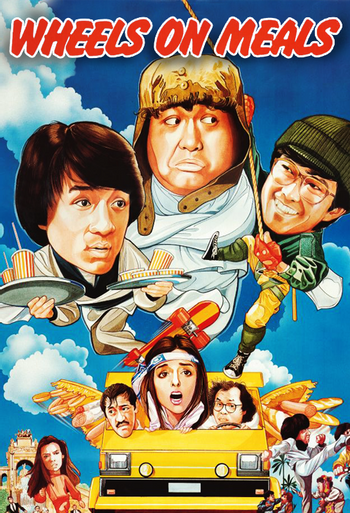 Kuai can che
(English title:
Wheels on Meals
) is a 1984
Kung Fu Action
Comedy, starring three of the most famous graduates of the Peking Opera House.
Two cousins, David (Yuen Biao) and Thomas (Jackie Chan), run a quirky Chinese food truck in Spain and are incredibly good at martial arts. Moby (Sammo Hung) is an assistant to a Private Detective in serious debt, so he takes over when his boss flees in fear for his life. Moby gets a job to track down a woman and her child from a mysterious stranger, but finds out that he's not the only one looking for her. It turns out that the woman Moby is looking for, Gloria, is in love with David's insane father, and her daughter Sylvia is now full-grown. David and Thomas take a shine to her, and along with Moby (who, it turns out, knows them both) seek to protect Sylvia while trying to figure out what's going on.
Notable for a) being one of the few modern films that unites Yuen Biao, Jackie Chan, and Sammo Hung, and b) an epic fight sequence between Jackie and Benny The Jet. Not to be confused with the nonprofit organization, Meals on Wheels. That was going to be the title, but a superstitious studio exec made them change it as two of the studio's recent films that both began with the letter M had both flopped.
Irem gained the rights to make a video game with the movie's assets and created Kung Fu Master (known as Kung Fu on the NES), but the game has nearly no relation to the film.
---
Wheels On Meals provides examples of:
---