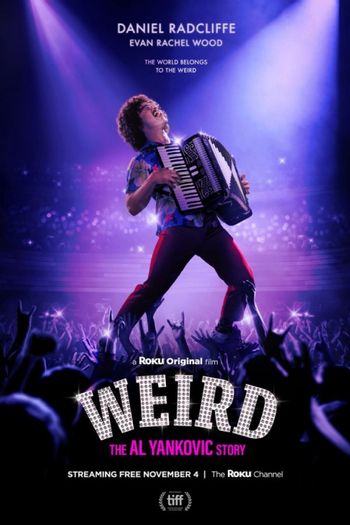 "Life is like a parody of your favorite song. Just when you think you know all the words, surprise, you don't know anything."
— Grizzled Narratornote
Weird: The Al Yankovic Story is a 2022 comedy/satirical biopic that tells the 100% true story of how "Weird Al" Yankovic (Daniel Radcliffe) became the music superstar he is today. The screenplay was written by Al Yankovic and Eric Appel (Brooklyn Nine-Nine, Die Hart), who also directed the movie.
This film is based on a fake trailer
Al made in collaboration with Funny or Die in 2010 that shares the same name. Though the film is similar in concept to the trailer, the cast is completely different, with Al being played by Aaron Paul in the original video.
In addition to Radcliffe playing Al, the film features Rainn Wilson as Dr. Demento, Evan Rachel Wood as Madonna, and Quinta Brunson as Oprah Winfrey. The film premiered at the Toronto International Film Festival on September 8, 2022, and was released to everyone on November 4th, 2022 through the Roku Channel.
The teaser trailer can be found here
, and the official trailer can be found here
.
Not to be confused with Al's earlier mockumentary, The Compleat Al.
---
Weird: The Al Yankovic Story contains examples of:
---
"What can I say? I am full of surprises."