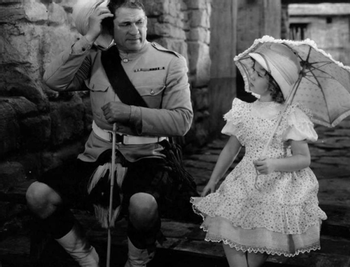 Wee Willie Winkie is a 1937 film directed by John Ford, starring Shirley Temple. It was an adaptation of a short story by Rudyard Kipling.
Shirley is Priscilla Williams, daughter of Joyce Williams and, more importantly, granddaughter of Colonel Williams, the commander of a British regiment on the Afghan frontier of The Raj. Colonel Williams' son having died and left Joyce widowed and impoverished, the Colonel has invited the daughter-in-law and granddaughter (both strangers to him) to stay with his regiment. Priscilla bonds with the gruff sergeant of the regiment, Sgt. MacDuff (Victor McLaglen), and Joyce falls in love with Lt. Brandes, but conflicts arise as the two civiilan women try to adjust to life in a frontier fortress. Then war comes when Khoda Khan (Cesar Romero), a Muslim tribal leader, rises up in revolt against the British and attacks the fort.
John Ford, a man who directed Westerns and a hard drinker who was known to get in fistfights with his actors from time to time, wasn't the most natural choice to direct a Shirley Temple movie, and only entered into the project grudgingly. He then grew to respect his child star so much that over a decade later he cast Temple in her best grown-up part, in Fort Apache. The backdrop of tragedy that runs through this film, as well as the grandeur of a John Ford western, makes this arguably the best movie Temple ever made, as Temple herself said in her biography.
This film also elicited the single creepiest film review ever written
, from the pen of Graham Greene. Greene, using some seriously incendiary and creepy language (seriously, read the review), attributed Temple's popularity and film career to pedophilia. The studio sued Greene and his journal into non-existence, forcing the author to hide in Mexico for a couple of years. People have been arguing about that review ever since. While a cynical mind could read some Squick into other Temple films, like the scene where she's Sitting Sexy on a Piano in Little Miss Marker, or especially the "Baby Burlesks" that began her career, that sort of subtext is not readily in evidence in Wee Willie Winkie.
---
Tropes:
---