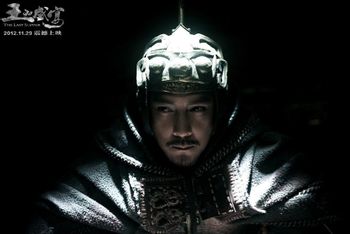 Wáng Dè Shèng Yàn, also known by its English title The Last Supper, is a 2012 film directed by Lu Chuan, notable for City of Life and Death and Kekexili: Mountain Patrol.
The beginning of the movie is narrated by aging Emperor Gaozu, first Chinese emperor of the Han dynasty. In his palace he is haunted by nightmares of his enemy Xiang Yu and his own General Xin. Flashbacks tell the story of how he as the commoner Liu Bang became emperor, but his memories do not explain everything that happened in those years. An important point is how General Xin defected from Xiang Yu and helped Liu Bang defeat him and become emperor.As the emperor becomes more ill, Empress Lü Zhi takes charge, exploiting his paranoia against General (Han) Xin, who is ostensibly plotting a rebellion. Liu Bang's unhappy former comrades who helped him gain the empire become embroiled in the empress' court intrigue, even as they try to prevent her from executing General Xin.
The movie is different from the histories at some points. Quite fittingly, as one of its messages is that histories are not always reliable.
The film is notable for its unique use of lighting, all indoor scenes are very dimly lit. This creates a claustrophobic athmosphere and adds to the realism; Bronze Age people didn't have electric lights and had to rely on candles and fires.
Lu Chuan and his crew put a lot of time and money into making the film be as accurate as possible, including costumes and material goods.The production was far from problem free, ending up behind schedule and overrunning its budget. It also appears that Xiang Yu's concubine Yu (his wife in the movie and played by He Dujuan) originally had lines, all of which were cut from the final film.
Despite this, it was largely overlooked and holds a measly 5.7 score on IMBD. Despite this, the (few) reviews
have
been positive
, while pointing out that some might find it difficult to follow.
---
This film provides examples of: