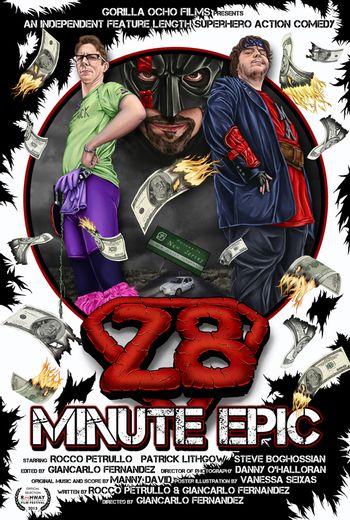 "Being superheroes. That's all we used to talk about. People do stuff they're not supposed to do all the time. They steal, molest, rape and kill. If people can do such terrible things, why can't we do something incredible?"
—Jim (aka The Masked Avenger)
28 Minute Epic is the 2015 live-action superhero comedy from Gorilla Ocho films, directed by Giancarlo Fernandez and written by the Fernandez and Rocco Petrullo.
The film chronicles the aimless adventures of lifelong best friends Jim Wilson (Petrullo) and Dave Fisher (Patrick Lithgow). After being (somewhat) unjustly fired from their pornshop jobs, the hapless duo decide to become superheroes for hire in the North Jersey area after accidentally stopping a mugging. With help from a "professional" crimefighter, the Dark Rider (Steve Boghossian), they discover that being a hero isn't always super...but it is FUCKING EPIC.
The independent project was shot on a budget of $4,100, raised entirely by crowd-funding and, despite its title, is a full feature length picture. It was an official selection at the 2015 Rahway Film Festival, as well as the recipient of its Audience Choice for Favorite Feature Film that year.
Shortly after its release, the making-of Featurette No, It's Not 28 Minutes Long was created by Rocco Petrullo. Both features, along with the film's original soundtrack, can be found on 28MinuteEpic.com
---
The film contains examples of :
---