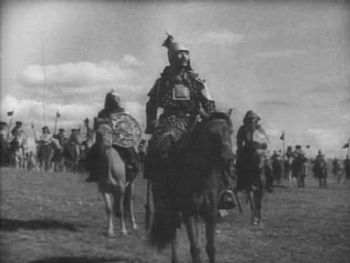 Tsogt Taij is a 1945 film from Mongolia.
It is the early 17th century and the Mongol Empire has largely broken up. In fact, the Mongolian homelands have been invaded by an alliance of Manchu Chinese and Tibetans. The Tibetans are backing the Chinese with the assurance that their "Yellow Hat" sect of Buddhism will become the state religion of Mongolia. Manchurian general Ambagi Tsetsen has also enlisted the support of Mongol prince Khush Khan, who is fully on board with turning his country over to the Chinese and Tibetans.
Opposing them is Ligden Khan, king of independent Mongolia. His chief supporter is Tsogt Taij, a Mongol prince who loathes the Chinese and the Yellow Hat Buddhists and is a strong Mongolian nationalist. Tsogt's son Arslan Taij is a warrior like his father but also has an eye for the ladies, and is distracted by a romance with princess Khulan, daughter of his father's enemy Khush Khan.
Tsogt Taij was made in a communist Mongolia that was a loyal client state of the Soviet Union. The anti-Buddhist theme of the film comes from the anti-Buddhist stance of the Mongolian government; this film was made less than ten years after violent government purges that killed thousands of monks and destroyed all but a few of the hundreds of Buddhist monasteries in Mongolia.
---
Tropes:
---