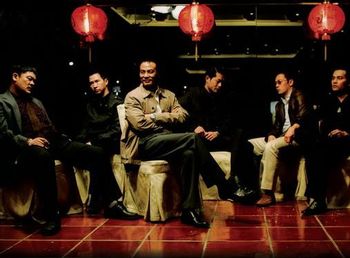 Election (黑社會; literally "Black Society") and Triad Election (黑社會2) are a duology of films that tells of the Wo Shing Society, based loosely on the Real Life Hong Kong triad "Wo Shing Wo", the oldest in the city that carries a long tradition. Directed by famed Hong Kong director Johnnie To, the films provide a contrast to the The Triads and the Tongs archetype in Hong Kong cinema that was previously predominated by the Young and Dangerous series.
In other words, internal betrayals within the society, threats of Civil War, gratuitous violence, ambitious sociopaths, ruthless lackeys and some of the most disturbing scenes ever shown in a Hong Kong triad movie.
Released in 2005, Election is headlined by Lok (Simon Yam) and Big D (Tony Leung Ka-fai), two of the leading candidates for the position of chairman in Wo Shing. Every two years, an election is held by the "Uncles" to determine who is fit to lead the society. While Lok is the favored vote among the elders and ultimately wins the election, Big D believes otherwise, and systemically begins tearing down tradition by kidnapping some of the higher ups and physically punishing them for electing Lok. As conflict and tensions mount between Lok and Big D's allies, center to their struggle is the Dragon Head Baton, the symbol of leadership that determines the Wo Shing Chairman. Thus begins a game of cat-and-mouse, where Lok and Big D's men rush to seize it for their respective bosses.
The Sequel Triad Election was released in 2006. For the last two years, Lok has made Wo Shing prosper and the society is financially better than before. This time, the story centers on Lok's lieutenant Jimmy (Louis Koo), the society's biggest money-maker, who went from selling pirated pornography to becoming a legitimate businessman outside of the city in mainland China. When a deal in the mainland goes bad, China's National Security Bureau informs Jimmy he can longer do business beyond Hong Kong, unless Jimmy were to win the next bid for Chairman. However, Jimmy was never that ambitious, until Lok plans to break tradition by seeking re-election. Forced to become a candidate, Jimmy must win the Uncles' favor, while ensuring his own survival in the bid, with hopes that once he's elected and his two years as Chairman is up, he can finally go "clean".
Expect plenty of Deconstructions to tropes that triad movies usually play upon.
Not to be confused with the 1999 film Election.
---
Tropes associated with both films are:
---