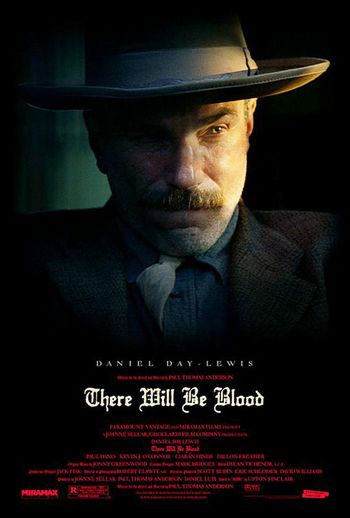 "What's this? Why don't I own this? Why don't I own this?"
— Daniel Plainview
There Will Be Blood is a 2007 period drama film written, directed and co-produced by Paul Thomas Anderson, starring Daniel Day-Lewis and Paul Dano, and loosely based on the first half of the novel Oil! by Upton Sinclair.
Taking place in the late 19th and early 20th centuries during the Southern California oil boom, the film focuses on Daniel Plainview (Day-Lewis), an oilman who travels the state buying people's land to drill. He is accompanied by his young adopted son and "business partner", H.W.
One day, he gets a tip from a young man named Paul Sunday about undiscovered oil fields on his family's land in Little Boston. As he buys up land in the town and starts drilling, tension builds between Daniel and Paul's twin brother Eli, a young charismatic evangelist who runs the local Church of the Third Revelation. (Dano plays both of the Sunday brothers.)
Unlike most Hollywood films, There Will Be Blood eschews conventional plotting in order to focus almost entirely on exploring its protagonist, making for a considerably more complex and, for some, confusing experience. One might say that in this case, the character is the plot.
Which is not to suggest that not much happens. Plenty happens. And there is blood.
The film was and is regarded as a landmark of not only the year, and the decade, but the century, with similar magnitudes of praise going to Day-Lewis' performance, for which he won most every honor that the 2007 award circuit had available for Best Actor, including his second Academy Award. It further won an Oscar for Best Cinematography (Robert Elswit), but lost its six other nominations (including Best Picture), half of them going to another universally lauded Paramount Vantage/Miramax co-production with a winter 2007 release: No Country for Old Men. Miramax, owned by Disney from 1993-2010, now has a minority stake owned by Paramount, giving it the worldwide rights to No Country for Old Men and There Will Be Blood as the new distributor of the Miramax library.
---
"I! Trope! Your! MILKSHAKE! I TROPE IT UP!"
---
"...I'm finished."
---