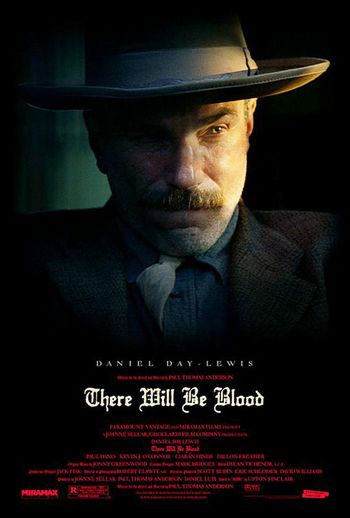 "What's this? Why don't I own this? Why don't I own this?"
A controversial but critically acclaimed 2007 film starring Daniel Day-Lewis, for which he won the Academy Award for Best Actor. Written, directed, and co-produced by Paul Thomas Anderson, There Will Be Blood was nominated for seven other Academy Awards including Best Picture. It also won Best Cinematography for Robert Elswit. Loosely based on the first half of the novel Oil! by Upton Sinclair.
The story takes place in the late 19th century and early 20th, during the Southern California oil boom. It centers on Daniel Plainview, an oilman who travels the state buying people's land to drill. He is accompanied by his young adopted son and "business partner", H.W. One day he gets a tip from a young man named Paul Sunday about undiscovered oil fields on his family's land in Little Boston. As he buys up land in the town and starts drilling, tension builds between Daniel and Paul's twin brother Eli, a young charismatic evangelist who runs the local Church of the Third Revelation. (Paul Dano plays both of the Sunday brothers.)
It is a complex and even confusing movie. Many left the theater asking themselves, "What was that about?" Unlike most Hollywood films, it eschews conventional plotting in order to focus almost entirely on exploring a character. One might say that in this case, the character is the plot.
Which is not to suggest that not much happens. Plenty happens. And there IS blood.
---
"I! Trope! Your! MILKSHAKE! [loud sucking noises] I TROPE IT UP!:
---
"...I'm finished."
---