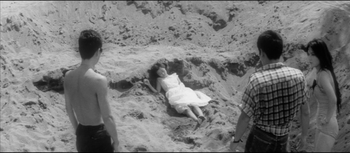 The Warped Ones (狂熱の季節, Kyōnetsu no kisetsu) is a 1960 film from Japan, directed by Koreyoshi Kurahara.
Akira and Yuki are a petty criminal and his prostitute partner in Tokyo. One day a reporter named Kashiwagi spots Akira lifting wallets in a jazz club that caters to Westerners. Akira is sent to a juvenile reformatory where he befriends another young hoodlum, Masaru. Akira and Masaru are released at the same time, whereupon they join up as partners in crime. They steal a car to take a trip to the beach, and as they're arriving they spot Kashiwagi and his girlfriend Fumiko. They assault Kashiwagi by striking him with the car door as they zoom past, then kidnap Fumiko. Akira rapes Fumiko while Yuki and Masaru have sex. They promptly forget about the incident and continue their life of crime untl Fumiko tracks Akira down and makes a strange request.
This film, with its mix of sex and violence and crime, was quite unusual for Japanese cinema in 1960.
---
Tropes: