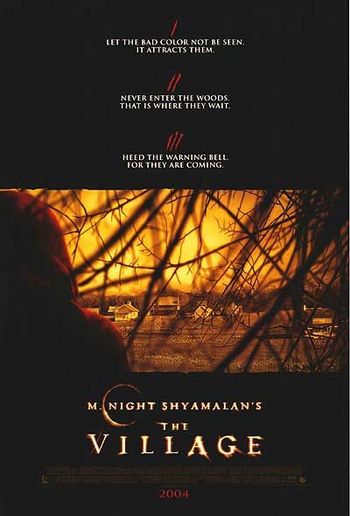 A 2004 Mystery and Thriller film by M. Night Shyamalan set in a turn-of-the-century village in Pennsylvania.
The villagers believe that the woods surrounding their hamlet are inhabited by fell supernatural creatures, and fear to venture outside. As an incident leads the creatures to begin antagonizing the villagers; one person must leave the confines of the village in order to gather medicine.
Like most of Shyamalan's movies, the film has a Twist Ending, and a quite controversial one at that; the ending garnered so many split reactions that it's the reason why this movie is widely seen as the start of Shyamalan's fall from grace.
Rumors exist that it was partially inspired by a Young Adult novel called Running Out of Time (note: reading the summary on that page will spoil this film).
Also note: As this is a suspense film, plot twists come steadily and often. So naturally, this page is spoiler-heavy.
---
This film provides examples of:
Love Triangle:

Between Ivy, Lucius and Noah.
To a much lesser extent with Edward, who is married to Tabitha but secretly loves Lucius' mother, Alice.

Mix-and-Match Critters: Those We Don't Speak Of look like a cross between pigs, trees and porcupines.
Secretly Wealthy:

Implied with Edward Walker. It's his name on the huge nature preserve that the village is situated in, and he seems to have some political clout for him to be able to get a no-fly zone implemented for that area. At one point Edward talks of his father's talent for making money, and a newspaper in the black box reads "Billionaire Walker Shot to Death" revealing his father died, so he very much inherited his wealth and the clout associated with it.

Sibling Triangle: Ivy's older sister Kitty is in love with Lucius, but Lucius is in love with Ivy. When Kitty asks Lucius to marry her, he turns her down and she's visibly hurt by it. By the time Lucius and Ivy got together, Kitty had already married someone else.
Tomato Surprise:

Edward reveals to Ivy that Those We Don't Speak Of are actually costumes worn by the Elders, and that the rituals surrounding them are equally farcical, as a measure of control so that no one leaves the town.
---