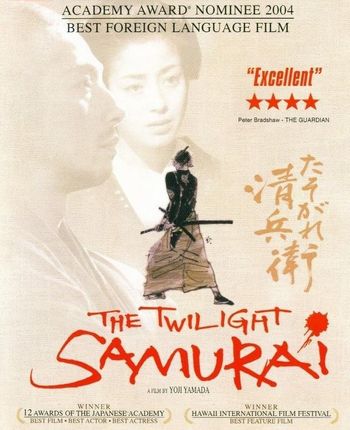 The Twilight Samurai (or Tasogare Seibei, literally "Twilight Seibei") is a 2002 Japanese film written and directed by Yoji Yamada. It is the first film in Yamada's acclaimed Samurai Trilogy, along with The Hidden Blade and Love and Honor, all based on the stories of Shuhei Fujisawa.
The story takes place in the mid-19th century, a few years before the Meiji Restoration, in a time of rapid change throughout Japan. Iguchi Seibei is a humble, low-ranking samurai and widower who must work several jobs to support his family after selling his sword and bankrupting himself to pay for his wife's lavish funeral. In this day and age, samurai have been reduced to petty bureaucrats and pencil-pushers. Seibei spends his days keeping track of the castle's dried cod. His colleagues nickname him "Twilight Seibei" for his habit of rushing home at the end of his shift rather than staying out with them to enjoy sake and geisha. At home, Seibei tills his own fields and assembles birdcages well into the night to support his two children.
After Seibei gets castigated by the clan's lord for his dishevelled appearance, his wealthier uncle decides to arrange a marriage for Seibei to ease his domestic burdens. Seibe refuses to marry just to receive a servant, and instead prefers to marry a woman who will share his love for his daughters. When Seibei's old friend Iinuma Michinojo pays a visit from Edo, he learns that Iinuma's sister Tomoe, another childhood friend, has recently divorced her alcoholic husband Koda and now lives in shame. Seibei and Tomoe respark their old friendship, but their courtship is chaste. When a drunken Koda emerges and challenges Iinuma to a duel for the return of his estranged wife, Seibei steps in and accepts the challenge on Iinuma's behalf.
It turns out that Seibei was once an instructor at a prestigious fencing school, and is quite a swordsman. He defeats Koda easily using only a wooden stick, leaving the man alive. When the clan elders hear of Seibei's skill, they quickly summon him to perform a task. Humble Seibei is reluctant to enter the dangerous world of clan politics, but he has no choice. The elders charge him with executing Yogo Zen'emon, a powerful warrior who has refused an imperial order to commit seppuku. Seibei meets with Yogo Zen'emon, and the two share a heartfelt conversation about having lost their families. However, when Seibei reveals that he does not own a sword, and intended on fighting Yogo with his wakizashi, Yogo is enraged and attacks him. Seibei defeats the warrior and returns home alive. He reunites with Tomoe and the two are married.
The film is narrated by Seibei's younger daughter Ito, her own old age drawing near, in what is presumably the Taishō period.
At the 76th Academy Awards, The Twilight Samurai was nominated for (but lost) the award for Best Foreign Language Film. It also won an unprecedented twelve Japanese Academy Awards, including Best Picture, Best Director, Best Actor, Best Actress, and Best Screenplay.
---
This movie provides examples of:
---