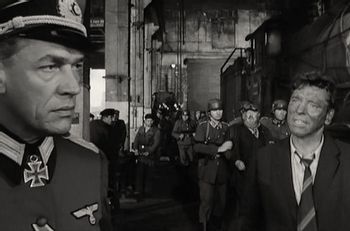 The Train is a 1964 World War II film directed by John Frankenheimer, starring Burt Lancaster, Paul Scofield, and Jeanne Moreau.
The year is 1944 and the Allies are closing in on the Nazis in Paris. German Colonel von Waldheim (Scofield), an avid admirer of great art, secures a train to transport France's greatest paintings to Germany. The French Resistance, which includes SNCF area inspector Paul Labiche (Lancaster), are determined to make sure they don't lose their greatest artistic treasures, but they have orders from London to make sure the paintings are not damaged in the process.
Not a huge hit at the time, The Train has long since been Vindicated by History, now widely regarded as "the last great black and white adventure movie" and a forerunner to films like Die Hard. It was even ranked No. 1 in Trains magazine's special issue, "The 100 Greatest Train Movies."
---
The Train provides examples of:
---