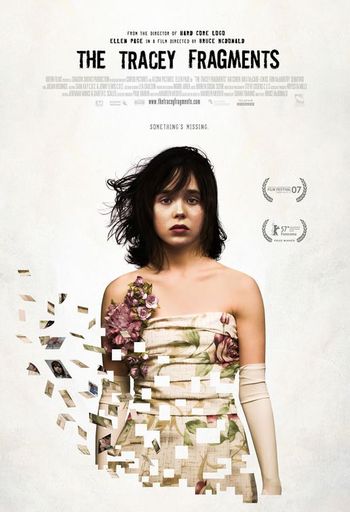 The Tracey Fragments is a 2007 Canadian film directed by Bruce Mc Donald and starring Elliot Page.
Tracey Berkowitz (Elliot Page) is a 15-year-old girl searching for her 9-year-old brother, Sonny, who she hypnotized into permanently acting like a dog. The movie opens with her riding in the back of the bus, clothed only by wrapping herself in a shower curtain, and explains how she got there through a series of anachronic flashbacks.
Notable for being filmed entirely in Mondrian multi-frame compositions, otherwise known as split-screen. The "fragments" of the title are literal as well as figurative.
In a interesting movie promotion tactic, the director made available all the raw footage that they shot for the movie as torrent downloads for fans to re-edit, and the best edits got released on the DVD.
---
This movie provides examples of:
---