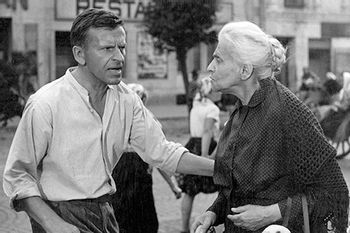 The Shop on Main Street (Obchod na korze) is an Academy Award-winning 1965 film from Czechoslovakia, told in Slovak, directed by Ján Kadár and Elmar Klos.
It is set in 1942, during World War II, when Slovakia existed as an "independent" client state of the Nazis. The protagonist is Anton "Tono" Brtko, a rather unsuccessful carpenter who suffers from a hectoring, nagging wife Evelina, and an obnoxious brother-in-law, Markuš Kolkotský. Worse, Markus is a member of the Hlinka Guard, the fascist Slovak militia that supports the fascist Slovak government as well as the Nazis.
Kolkotský and his wife (Evelina's sister) come over for dinner one night, and after Kolkotský rubs his success in Tono's face, he reveals that Tono has been assigned to take over a Jewish shop as "Aryanization" requires stripping the Jews of all their property. Tono arrives to take possession of the shop, a little store dealing in sewing materials that belongs to an elderly Jew, Mrs. Lautmannová. Mrs. Lautmannová is half deaf and quite senile, has no idea that there's a war on and Jews are being persecuted, and completely fails to understand Tono, thinking that he's her nephew come to work in the shop. Tono strikes a deal with the local Jewish community in which he will allow Mrs. Lautmannová to live in the shop and continue to think that she owns it, in return for regular payments. In the meantime, he strikes up a friendship with the old lady—but that friendship is put to the test when the cattle cars come to take the town's Jews to concentration camps.
The Shop on Main Street was a big hit in 1965. It won the Academy Award for Best Foreign Language Film.
---
Tropes: