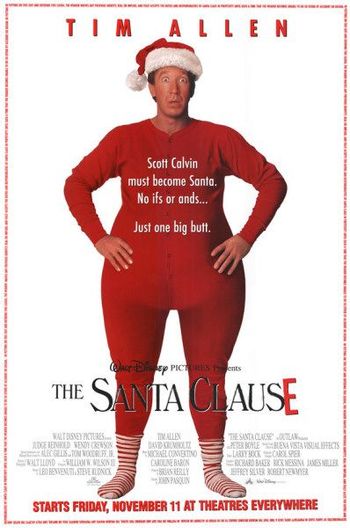 "In putting on the suit and entering the sleigh, the wearer waives any and all rights to any previous identity, real or implied, and fully accepts the duties and responsibilities of Santa Claus in perpetuity until such time that wearer becomes unable to do so by either accident or design."
— The stipulations of the titular clause
A trilogy of Disney Christmas movies starring Tim Allen.
The first film in the series, The Santa Clause (1994) is a modern take on the Scrooge story with a twist. Businessman Scott Calvin is divorced and cynical, and his ex-wife Laura (Wendy Crewson) doesn't want him to have much contact with his son, Charlie (Eric Lloyd). One fateful Christmas Eve, he startles a man who he believes is a burglar on his roof. The man falls off into the snow of their front yard, then vanishes, leaving his clothing behind- and a sleigh of flying reindeer on the roof. Scott, at Charlie's insistence, puts on the guy's red Santa coat and spends the night delivering gifts before being taken back to the North Pole, where he discovers that he inadvertently invoked a magical contract and must now take on the role of Santa permanently, being given until Thanksgiving to set his affairs in order. He tries to blow this off as a wild dream and returns to his life, but before he knows it, he finds himself craving cocoa with marshmallows and Christmas cookies, puts on weight at an alarming rate, and finds his hair whitening and a beard that grows back in five seconds. His ex thinks that he's gone crazy and tries to win sole custody of their son, and Scott has to attempt to both repair his damaged family relationships and keep Christmas going.
In The Santa Clause 2 (2002), Scott discovers that the fine print in the magical contract that gave him his Christmas powers requires him to find a wife, and he has only until next Christmas to find a Mrs. Claus. He gets a watch with a magical indicator on it that tells him how much Christmas magic he has left; if it runs out, he can't get back to the North Pole. In order to keep the elves in the dark about the problem, a toy Santa is created to take his place. When it goes wrong, the elves try to keep a lid on it so Scott can find a lady. He finds one in Carol Newman (Elizabeth Mitchell), a principal at Charlie's school.
The third, The Santa Clause 3: The Escape Clause (2006), features a North Pole visit from Carol's parents for Christmas. Mrs. Claus is about to have a baby, and Santa must contend with jealous Jack Frost played by Martin Short. The harbinger of winter is jealous that Santa gets all the winter attention and decides to exploit the escape clause of the Santa Clause in order to steal the job from an overwhelmed Scott. Scott is returned to his life as it was before becoming Santa, without Carol, but is made aware of what's gone wrong and has to set it all right before Christmas Eve.
The Santa Clauses was announced in January 2022 as a limited series on the Disney+ streaming service, with Tim Allen returning as a nearly 65-year-old Scott Calvin who's realized he can't stay Santa forever and is looking for a suitable replacement so he and his family can return to the regular world again.
---
This movie series provides examples of:
open/close all folders
Franchise-Wide
Someone Has to Do It: The world needs Santa, so there must always be one.
Steam Never Dies: Steam trains show up all over the place at the North Pole.
Weirdness Censor: When you think about it, the fact that almost no adults believe in Santa is more than a little ridiculous in the face of a bunch of mysterious presents (including rather conspicuous items, like a freaking kayak) showing up en masse in everyone's houses on Christmas morning.
The Santa Clause (1994)
The Santa Clause 2
The Santa Clause 3: The Escape Clause
---