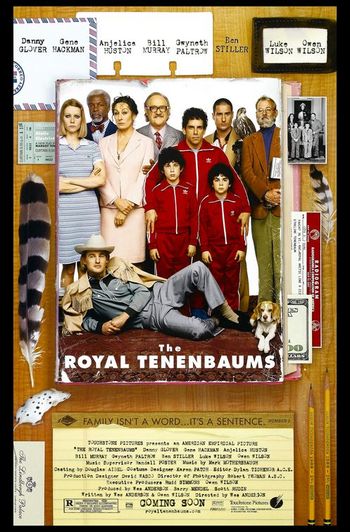 The Royal Tenenbaums is a 2001 comedy-drama film directed by Wes Anderson and written by Anderson and Owen Wilson.
Probably the first Wes Anderson film to really hit the mainstream, it was nominated for the Oscar for best original screenplay.
The Royal Tenenbaums is about the Tenenbaum family:
Other important characters include:
The movie depicts Royal's attempts at getting closer to his family after failing to pay rent at the Lindbergh Palace Hotel. He fakes stomach cancer to gain their sympathy and access to the family home. Like most Wes Anderson films, it is marked with quirky sets and costumes, as well as much deadpan humor.
A kind of sister movie to Anderson's later project The Life Aquatic with Steve Zissou, which has nearly identical cast and a similar (though much more dream-like) atmosphere.
---
Provides examples of:
---