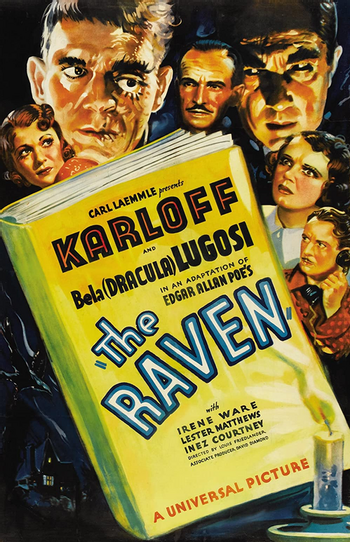 While this mad surgical genius chanted "The Raven", horrible screams rose up from his torture chamber below!
The Raven is a Universal Horror movie from the year 1935. As the name suggests, the works of Edgar Allan Poe are referenced heavily.
A young woman named Jean Thatcher crashes her car and is left in critical condition. Her concerned father convinces retired Dr. Richard Vollin (Bela Lugosi), a noted Edgar Allan Poe hobbyist, to help her. He manages to save her life and becomes infatuated with her. Her father is displeased with this development and orders Vollin to leave her alone. Vollin, grudgingly, agrees.
Soon after this, a man on the run from law named Edmond Bateman (Boris Karloff) approaches Dr. Vollin about fixing his face so that he can end his life in crime. Vollin pretends to take up on the offer to help him, but ruins his face instead and forces him to be a part of his mad scheme of revenge.
The examples in this film:
---