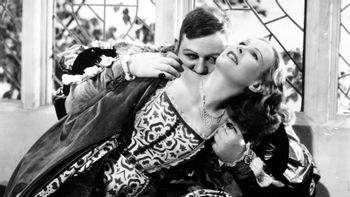 "Thomas, if you want to be happy, marry a girl like my sweet little Jane! Marry a stupid woman! Ha ha ha!"
The Private Life of Henry VIII is a 1933 film directed by Alexander Korda, starring Charles Laughton, Binnie Barnes, Wendy Barrie, and Merle Oberon.
The film opens with a title card describing Catherine of Aragon as being an honorable woman whose life was of no particular interest. It thus omits Catherine entirely, and picks up the life of Henry VIII (Laughton) on the day his second wife, Anne Boleyn, is being executed. While Boleyn is going to the block, everyone is having a good time at court, preparing for the marriage of the king and Jane Seymour, who replaced Anne in his affections. After Jane dies in childbirth, Henry somewhat reluctantly agrees to marry German princess Anne of Cleves, but takes an instant dislike to her when she comes to England, and swiftly gets a divorce. Meanwhile, scheming social climber Katherine Howard finagles her way into the king's bed and becomes his fifth wife—with tragic consequences for her and her lover Thomas Culpeper.
The Private Life of Henry VIII was a milestone in the history of British film. It was the first British film to do well overseas (it made a mint in America) and was the first film produced outside of the United States to receive an Academy Award nomination for Best Picture. It made stars of Laughton, Oberon (Anne Boleyn), and Robert Donat (Thomas Culpeper). It is Exactly What It Says on the Tin, ignoring the Protestant Reformation and the political turmoil of Henry's reign and focusing solely on his love life. The tone is satirical bedroom farce. The portrait of Henry as a fat, gross libertine with disgusting table manners was tremendously influential with regards to modern public perception of what Henry was like.
---
Tropes in The Private Life of Henry VIII include:
---