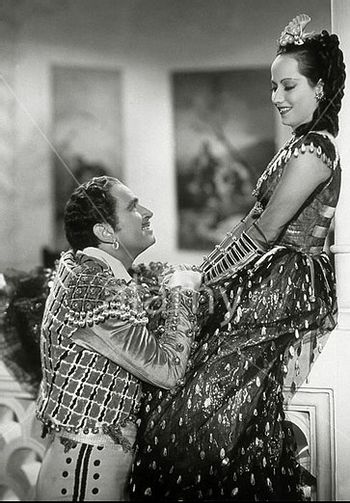 "Marriage is like a beleaguered city. Those who are out, want to get in; those who are in, want to get out."
The Private Life of Don Juan is a 1934 film starring Douglas Fairbanks, directed by Alexander Korda, based on the play L'homme à la Rose by Henry Bataille.
Don Juan, well past his prime as The Casanova and now in late middle age, has returned to Seville to retire. But his reputation proceeds him, and he's still sought after by the ladies of Spain. Additionally, his wife Dona Dolores, who continues to insist that he stop his philandering ways and return to her, has bought up his debts and is threatening to have him thrown in debtors' prison if he won't come home.
Meanwhile, a young man named Rodrigo admires Don Juan and envies his success with the ladies, so he has taken up impersonating Don Juan and climbing women's balconies all over town. When Rodrigo is killed by a jealous husband, Don Juan seizes on the chance to anonymously retire, but he doesn't like the quiet life as much as he thought he would.
This film was conceived as a comeback vehicle for 51-year-old Fairbanks, who'd been one of the biggest stars in the world during the silent era but whose career had gone into a steep decline with talkies. It didn't work. The film was viciously panned by critics and bombed at the box office, and Fairbanks never made another movie, dying of a heart attack in 1939. It's been Vindicated by History, though, and was released on DVD by Criterion as part of an Alexander Korda box set.
---
Tropes: