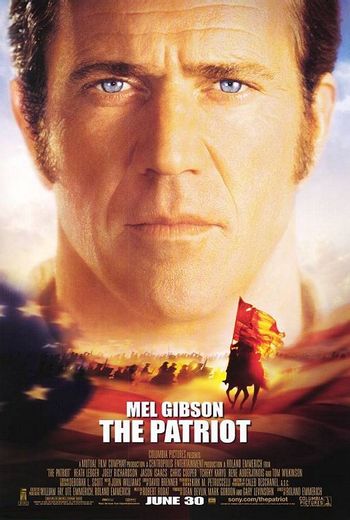 Benjamin Martin: Before this war is over, I'm going to kill you.
Colonel Tavington: Why wait?
A 2000 war epic set during The American Revolution, directed by Roland Emmerich and starring Mel Gibson, Heath Ledger and Jason Isaacs.
The movie isn't about the actual Founding Fathers, but is instead about some of the biggest and most brutal engagements that were waged in the Southern colonies, as seen through an Officer turned Farmer turned Officer again. Benjamin Martin (Gibson) is a veteran of the French And Indian War who was changed by the horrors he has seen (and committed). South Carolina has just voted to join the war, but Ben decides not to participate in the conflict. His eldest son Gabriel (Ledger) decides to go anyway; he isn't seen again until two years later, when he staggers home, wounded and carrying dispatches between two rebel leaders.
This is where Colonel Tavington (Isaacs) comes in. The commander of the elite Green Dragoon forces, Tavington orders the deaths of the rebel wounded, has the Martins' house burned down, and takes Gabriel in as a spy to be hanged. Thomas, his next oldest son, tries to intervene, and gets a bullet in the back for his trouble. This sparks Benjamin Martin's decision to join the Revolution to fight the Redcoats (and to ambush and slaughter the British detachment).
The rest of the film is spent with Martin and his militia harassing Tavington (and by extension, Cornwallis) throughout South Carolina, holding out until The French arrive to reinforce the Colonials.
Nominated for three Academy Awards, the film is known for its gruesome battles and the hit-and-run tactics employed by the militia. It's also noted for its score, which Barack Obama had playing in the background during his Presidential acceptance speech.
Is also known, however, for its extreme cases of Politically Correct History, having plenty of (partly blatant) Historical Villain Upgrades for the British and Historical Hero Upgrades for the rebels, to make the conflict more justified.
---
This film provides examples of:
---