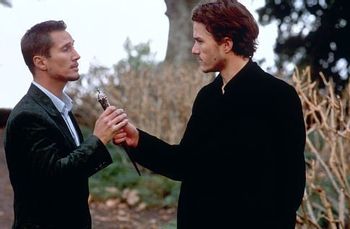 "The terrible thing about the truth is that sometimes you find it."
The Order is a 2003 mystery/thriller film written and directed by Brian Helgeland, starring Heath Ledger, Shannyn Sossamon, and Mark Addy.
Alex Bernier (Ledger) is a priest. And not just any priest. He's a trained exorcist, raised in the Catholic Church by another priest and his mentor after his parents died. He is also hopelessly in love with Mara (Sossamon), a woman once tried to kill him. Bound by the oaths of his order, he dares not pursue her.
But she pursues him. All the way to Rome, where Alex is summoned after his mentor, Dominic (Francesco Carneluttias), is found dead. Worse, though, Dominic was declared a heretic just before his death, and has been ex-communicated. Alex refuses to let this happen, and is joined in Rome by another friend and fellow disciple of Dominic's, Father Thomas (Addy).
In Rome, Thomas and Alex encounter several demons Dominic apparently summoned before his death. It's apparent Dominic was attempting to atone for something, but they are at a loss for details until they are led to a mysterious man called William Eden (Benno Fürmann).
Eden is eternal, not quite a demon but no longer just a man. He is a Sin Eater, the only person on Earth capable of forgiving men of their sins and allowing them entrance into Heaven...even after they have been ex-communicated. Thomas believes Eden is evil, a perversion against the Church, but Alex is torn. Eden convinces him to give up his order to pursue Mara.
---
This film provides examples of:
---