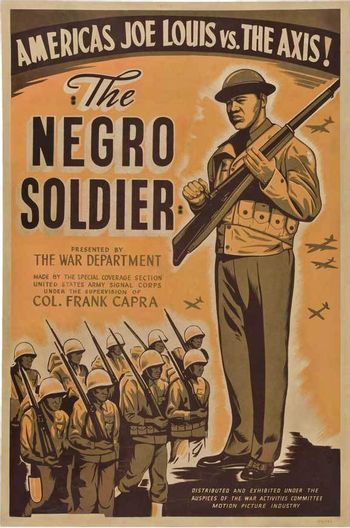 The Negro Soldier is a 1944 World War II propaganda film ordered by the U.S. War Department and produced by Frank Capra, as a follow-up to Capra's Why We Fight documentary series. It was directed by Stuart Heisler.
The original idea was to motivate African-Americans to participate fully in the United States's war effort against Germany and Japan. The fact that America had gone to war in order to fight repression and racism abroad while repressing its own black citizens had not gone unnoticed by the African-American community. Contemporary surveys of African-Americans
showed that support for the war against Germany was limited and support for the war against Japan, a non-white nation, was even more limited. Thus the Office of War Information commissioned The Negro Soldier in order to boost enthusiasm for the war among African-Americans.
The mandate for the film was quite limited. The filmmakers were not allowed to mention slavery, or Jim Crow segregation laws—especially since the Army was itself segregated at that time and would remain so until 1948. Nor were the filmmakers allowed to mention civil rights leaders. Instead, the movie was to remain positive, showing the contributions of African-Americans to the war effort and to all previous wars in American history. The OWI had intended it to be shown only to African-American soldiers, but the black civilian community embraced the film enthusiastically and eventually succeeded in getting the War Department to show the film to both soldiers and civilians of all races.
The film is staged as a sermon from a minister (Carlton Moss, who also wrote the script) in a black church. The minister gives a sermon in which he recounts the achievements of the black community in America, citing heavyweight champion Joe Louis and Olympic medalist Jesse Owens, as well as the professional and educational achievements of other African-Americans. The minister then segues to the contributions of African-Americans to the American military throughout history, starting with Crispus Attucks being shot and killed at the Boston Massacre. A woman from the congregation stands up and reads a letter from his son, in which her son describes basic training. The film ends with a montage of black soldiers marching off to war as the congregation sings "My Country, 'Tis of Thee".
The film resulted in some unintended consequences. It was only meant to increase black support for the war effort, but the black community took a sort of a moral ownership of the film as a statement in support of civil rights for the black community. The Negro Soldier was inducted into the National Film Registry in 2011.
As a U.S. Government production, it is in the public domain and is available online.
---
Tropes: